2004 - The Mk1 Golf Owners Club
To celebrate the '21st Anniversary' of the Golf GTI the inaugural club meet took place at Gaydon Heritage Centre on Sunday 26th September 2004 and was organised by Drew Wagar. It was the first large scale meeting of Mk1 Golf owners and 147 cars turned up that day and despite a strong breeze that threatened to blow over the trophy table, everyone thoroughly enjoyed themselves. The event was held on the tarmac car park.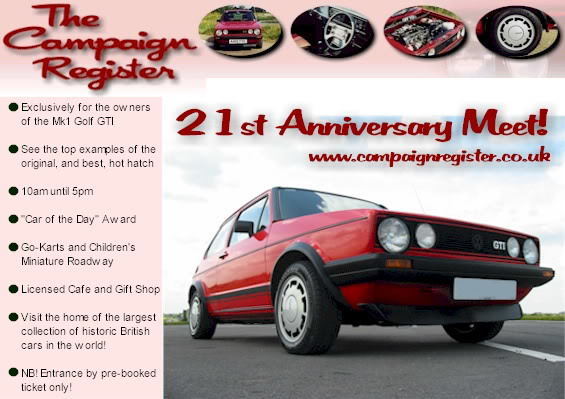 Click here for the 21st anniversary pictures
The Mk1 Golf Owners Club was launched on 28th October 2004 with a grand total of 40 members. The main emphasis at the time was to concentrate on the standard car rather than modified examples, the thinking being that other forums covered that aspect of ownership and standard cars were more likely to be cherished by the more 'mature' owner! The club sets its standard high and promoted a family atmosphere with content that could be shown to grandparents without worry of embarrassment, a philosophy that remains to this day.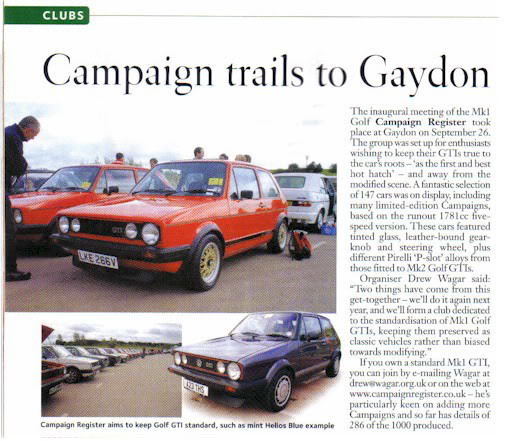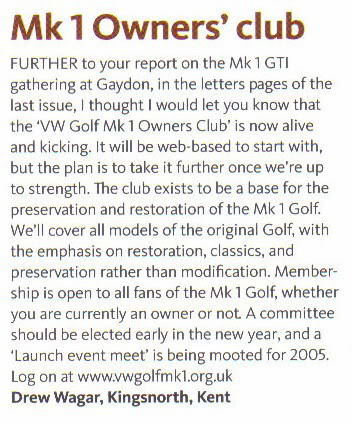 The initial committee members were elected at the first Annual General Meeting (AGM) at Gaydon Heritage Centre on 22nd May 2005.
Chairman - Drew Wagar - Drew
Treasurer - Rob Wooley - Adolf
Secretary - Stephen Larkin - Pop
Website managers - Chris Burnett - ChrisB and Phill Thrift - Phillmk1gti
Events Manager - Andy Day - Hairyarse
Time has moved on and the club recognises that the modified scene has a lot to offer the Mk1 Golf owner, as such modified cars appear in abundance on the website. The club covers all models of the Mk1 Golf from the 1.1cc through to the 1800i, through to the 16v and VR6 conversions.  Hard tops in 3 or 5 door, cabriolet or caddy, carburettor or injection, they are all welcome.
The club is a real world wide community with members from the UK, France, Germany, Spain, Poland, Italy, Malta, South Africa, Australia, USA, South America, Canada and probably some that I've forgotten about!
When The Campaign Register 'closed' it had 437 users and 9920 post in 2 years. In the first 3 months of the Mk1OC there were 610 users and 5236 posts!
The main aim of the club is to provide an informative website for technical help on diagnostics, running problems, repairs and restoration. We strive to maintain high standards on the posts and this policy seems to be working so far with very few users getting banned for abusive or insulting behaviour!!! The first user to get banned however was on 9th January 2006 - quite a long time after the club began so the standards that we set seem to be observed by the members quite well!!!
---

Discussion (0 posts)