2010
Winter of 2009 came and went and the search for a new AGM venue began again. Gammygolfgti (Warren Randall) did an excellent job of booking Uttoxeter Racecourse in January 2010 and preparations began for the forthcoming 2010 AGM. The theme colour for the year was green to compliment a racing feel.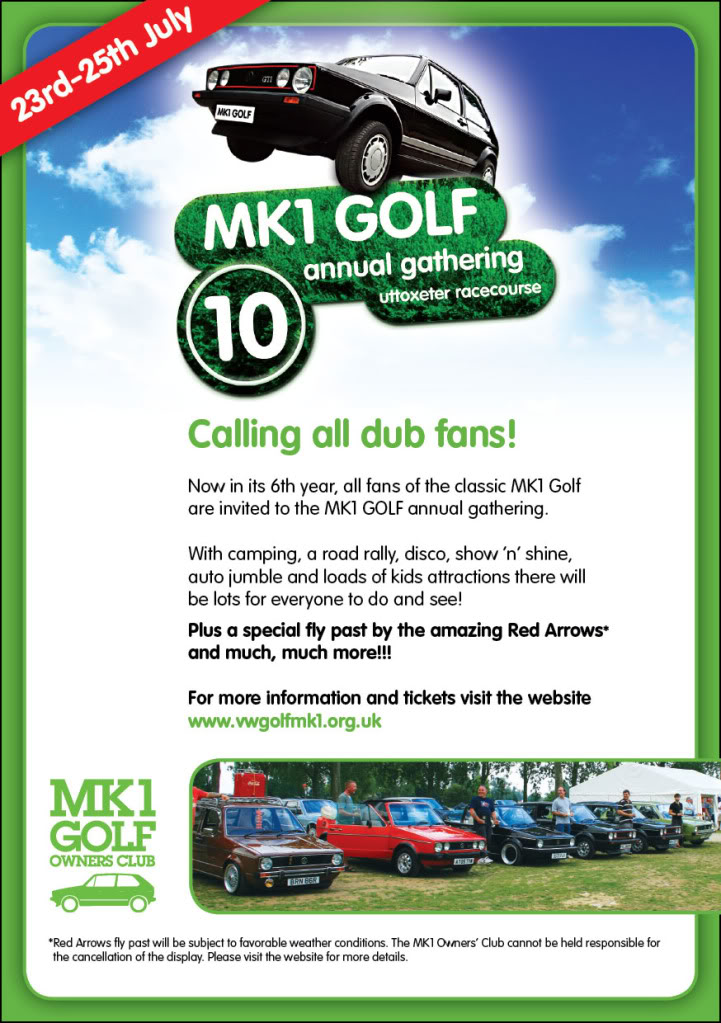 Various regions held their own meets and the two that were most active were Milton Keynes and The Midlands. Kavlfc (Chris Kavanagh) suggested a competition to run throughout the year - a McGolf Drive Thru!!! A purchase had to be made to qualify for the car to be counted.
Spudfingers (James Barrie) caught the Milton Keynes attempt at the title in action!!!
click here to watch the Milton Keynes McGolf Drive Thru Challenge take place
The Annual Gathering for 2010 was held over the weekend of 23-25th July at Uttoxeter Racecourse. Just as everything was looking rosy and the committee were beginning to relax ever so slightly, the issue of showers cropped up - as they had done the year before. A quick booking was required but still they proved difficult to get going properly.
As members arrived and pitched their tents, A5OPY and Gammygolfgti worked with professional electricians tools (breadknife, pliers and Leatherman) and managed to get them working by 8pm on the Friday evening. The campers cracked open their bottles and cans, lit the BBQ's and sat back chatting with old friends and new acquaintances who'd joined the club over the past year.
It cannot go unmentioned at this point to say how welcoming the Caravan Club stewardess was to our club. Signs went up outside her gate saying 'Toilets for Caravan Club use only' and it was requested by her that an announcement was to be made to our members to draw attention to her wish.
Quick as a flash Dano ran to his Cabby, dropped the hood and in stepped the chairman armed with a megaphone. A true German staff car had been born!!!! With A5OPY stood up in the back of Dano's car, they drove round the gathering making the requested announcement. A5OPY took it one step further and asked the Caravan Club not to use our toilets either….. all in good humour though!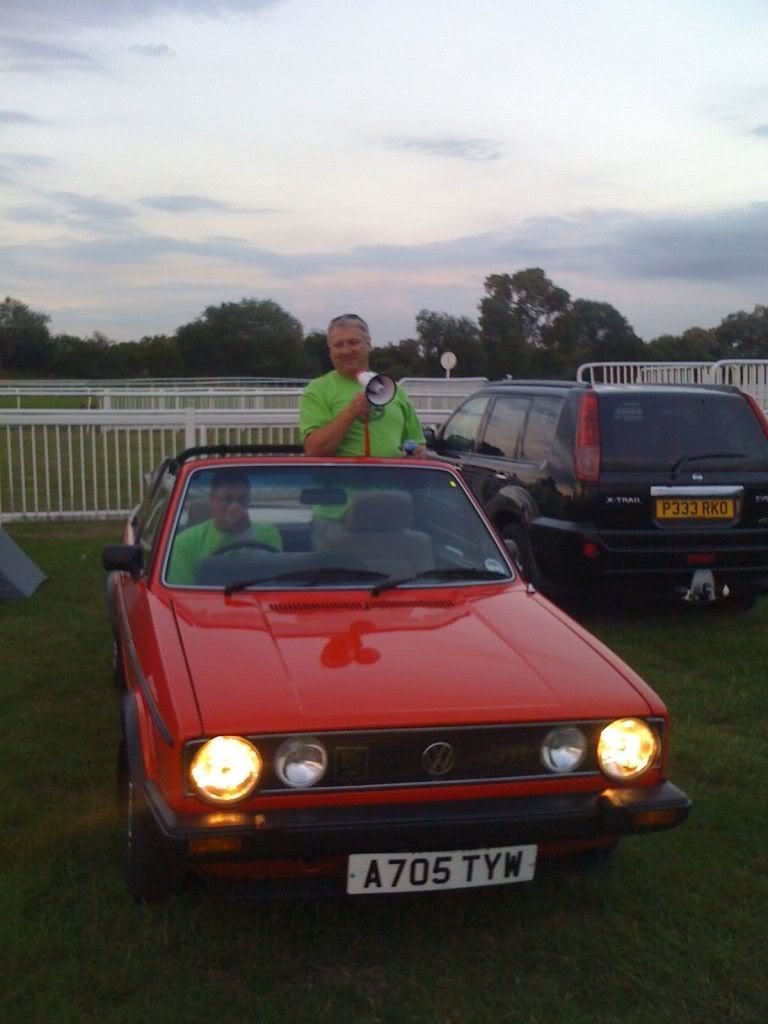 Saturday morning saw the AGM meeting take place in the 'club house'. None of the committee stood down so it remained the same for the next 12 months.
Chairman - Andy Openshaw -A5OPY
Treasurer - Graham Welsh - Yomp
Secretary - Dan Perkins - Dano
Events manager - Warren Randall - Gammygolfgti
Membership - Kim Smith - littlerolf
Website manager - Mark Kennedy -  Kenno
Design  manager - Christian Cochrane - Tian
Merchandise manager - Darren Howard - daz1971
Moderator team leader - Glen Dodsworth - ew
Once the meeting was concluded the drivers' briefing for the rally was held. 88 cars turned out from the campsite - a club record to date and each car was issued with a grille plaque to commemorate the run.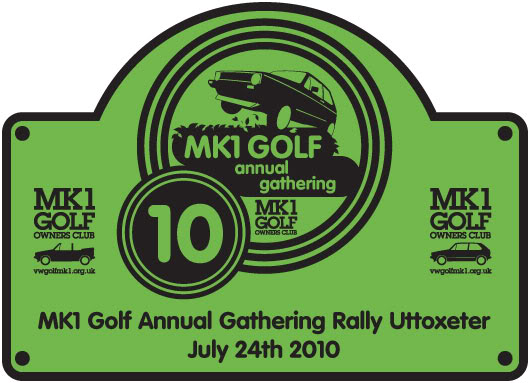 The rally took the drivers through towns such as Matlock and Bakewell, a stop for a group photo at the Carsington Reservoir Visitor Centre took place and we continued. The drive went on and on and on - and so it became known as 'The Enduro Rally'!!!

Saturday nights 80's theme disco was host to Freddie Mercury, Boy George, Leroy from Fame, Super Mario, Virgil from Thunderbirds, Pac-man and Blinky from the arcade game and numerous 80's girls. Food was prepared by Bert (Lee Williams) and Gammygolfgti on Berts' cut in half, tow bar fitted Citi Golf. Under the hood of the car Bert and Daz1971 had fitted a fully operating BBQ and lighting and after a few beers many people indulged in a tasty burger!!!!
The Sunday morning began slowly for some but soon built up to a parking frenzy as EW and A5OPY tried to get the visitors cars parked in an orderly manner on the display ground. Around 150 Mk1 Golf's attended throughout the day and their owners busily polished in the hope of receiving one of the glass show and shine trophies.
Around 3.30pm the clubs' chairman presented the trophies to the lucky winners. Runner-up rosettes were also handed out.
The guests were asked to vote for the 'Peoples Choice' (sponsored by Crazyquiffs Mk1 Emporium Ltd www.golfmk1.co.uk ) by standing next to their favourite car. By far the most popular one was the BBQ by 'Bert'.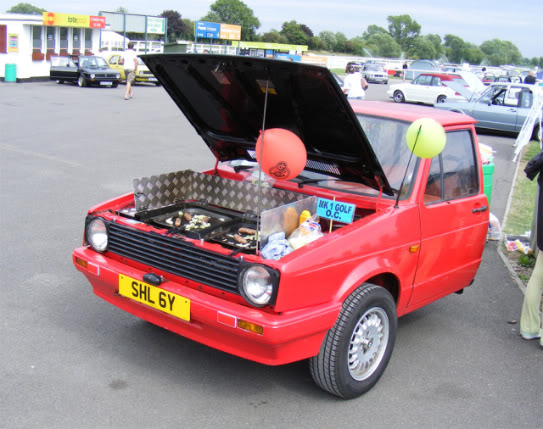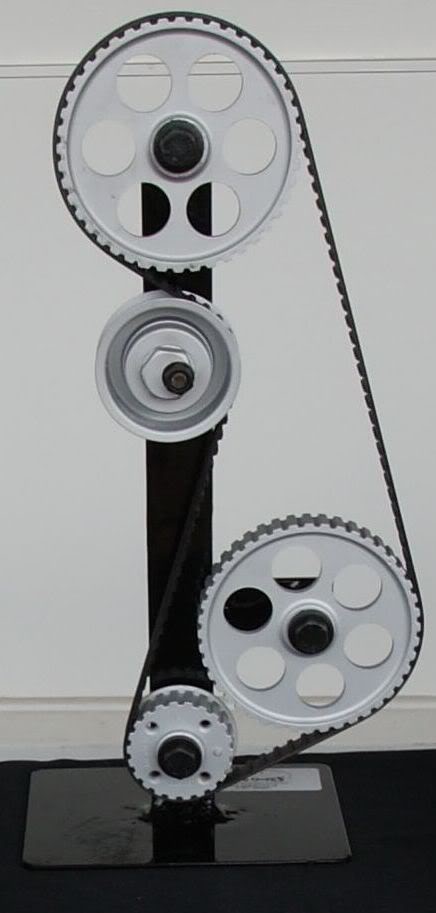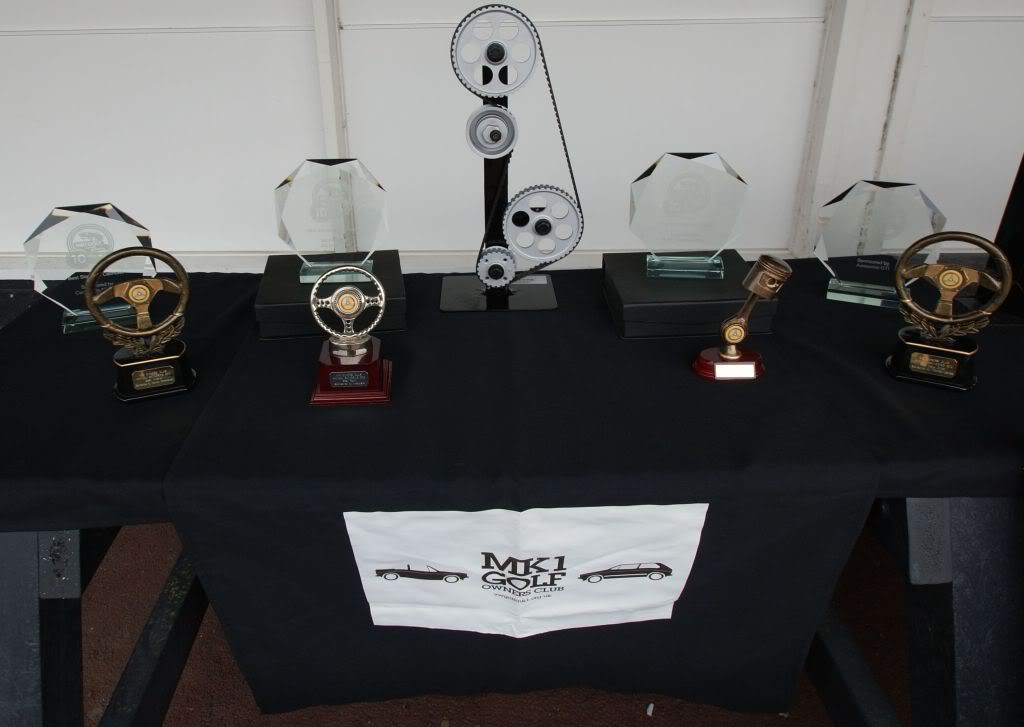 Show and Shine Winners and Runners Up
Best standard hatchback - Ian McCormick
Best standard hatchback runner up - Dave Massey
Best Standard cabriolet - Clive Proctor
Best standard cabriolet runner up - Hugh Coffey
Best modified hatchback - Michael Matthews
Best modified hatchback runner up - Jason Buckley
Best modified cabriolet - Marcus Dullea
Best modified cabriolet runner up - Nicky King
Best engine - Adrian Daniels
Best engine runner up - Andrew Littlewood
Best Paint - Andrew Dickinson
Best interior - Sharon Daniels
Best interior runner up - Dean Meridith
Best daily driver - Anna Bebbington
Best daily drive runner up - Peter Crompton
'Peoples Choice' - Lee Williams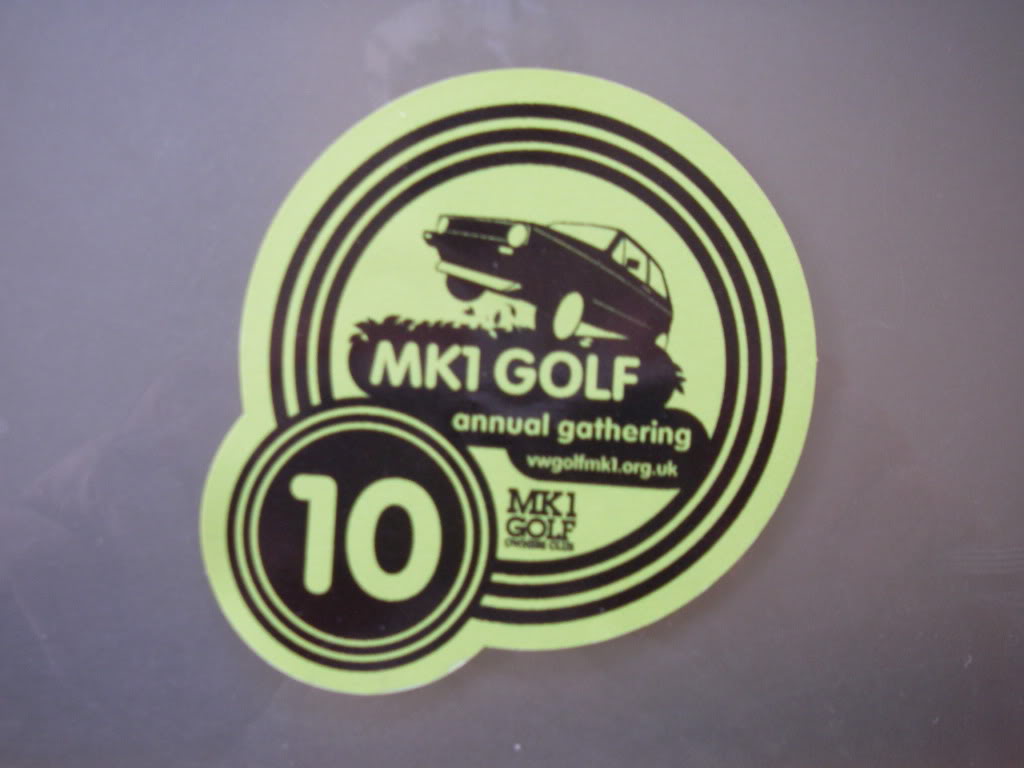 click here for the 2010 annual gathering photographs
The event drew to a close and people began to depart eager for next years' event.
As soon as members got home photographs of the weekend began to appear on the forum and it'll come as no surprise that July 2010 was the busiest (to date) for website traffic. 2.1 MILLION page views were made and, 94gb of data was transferred during July alone with the busiest day ever being Wednesday 14th for some reason.
Aware that the committee doesn't get things right all the time, Dano requested ideas on how to improve the next years' show. Suggestions came in and were considered in due course.
On Saturday 4th September 2010 the North West Massive re-visited Dobbies Garden Centre at Blackpool where Top Gear had attempted to put a rose arch into the rear of a hatchback Mk1 Golf a few weeks earlier. A5OPY came up with the idea that it would be good to prove that it COULD be done… if only with a bit of poetic licence!
After the garden centre visit they drove out to Fleetwood and took up the McDonalds Drive Thru Challenge. They only managed to equal the Milton Keynes total of 13 but it was fun doing it!
As one show finishes, the planning for another begins and the NEC in Birmingham is coming up quickly. In 2009 the club tried to take things one step further than the previous years displays. Carpet was ordered and a gazebo was erected along with cassette banners. In 2010 the display boards were used for the first time and a 'Cool Wall' was constructed (it was actually a 5ft square roof support covered in carpet) and photographs of members cars were attached to it to great interest of the show goers.
---
There are no pages beneath this page

Discussion (0 posts)