Restore horn

Settling In

So next up on the list is restoring the horn. The previous owner rewired it to a separate button for some reason.
So it's just ground and voltage cable from the horn connected to the button.
So how do I go about restoring the horn so I can use the button on the steering wheel?
Local Hero

Don't press that button….. your passenger might get shot out of the roof. 007 style.

---
1988 Mk1 Golf GTi Cabriolet 1.8cc DX, K-jet. Daily drive. 300,000 miles and counting
1978 Mk1 Scirocco GLS 1.6cc FR, Webber carb. Weekend toy.
Local Hero


Restore horn
Depends on what's been chopped off.
The twin horn on earlier cars pre 1990 tend to suffer current drop across the twin horn set up. The old wires goes higher resistance.
On the steering column there's a horn tab and a ring on the underside of the Steering wheel.
This allows continuity of the wiring from the horn pad.
The current path goes down through the column and is linked via a brief wire that bridges the column and steering rack.
Bear in mind that these horns are negative switch and permanent live.
Sent from my iPhone using Tapatalk
---
"Making Cabbies More Beautiful One Roof at a Time" 

Local Hero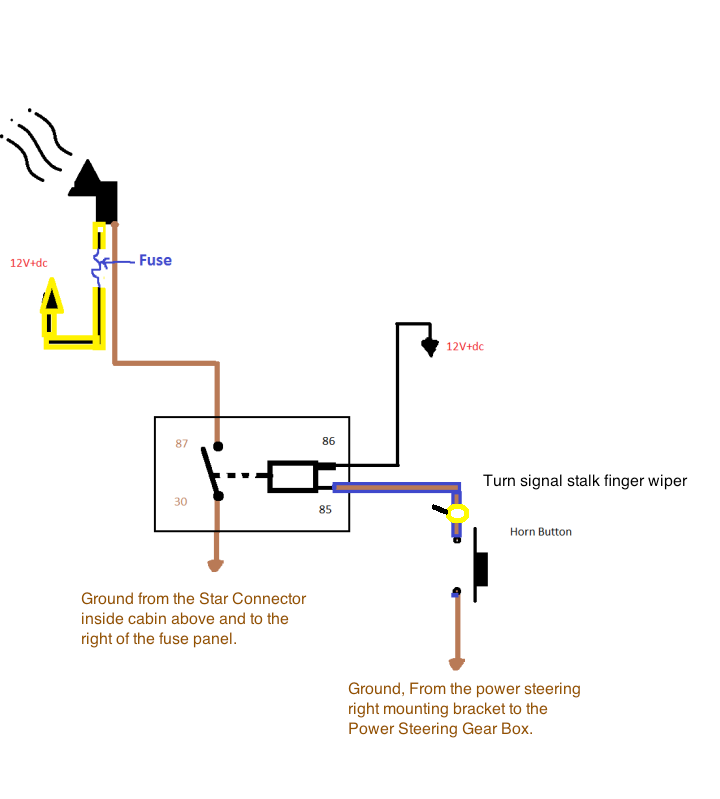 Verify that you have 12v on the black/yellow wire going to the horn. Yes then proceed testing the horn, no and you have to find the fuse or the break in the wire preventing 12V full time.
Verify that you horn works by taking a wire and touching the brown wire at the connector to the frame.
Verify that you have a Ground wire from the left hand steering rack bracket to the side of the Steering gear box….
Ground from the mount goes to one of the horn buttons from the center of the steerin g shaft to the horn relay that switches the ground to honk the horn.
---
What do Divorces, Great Coffee, and Car Electrics all have in common?
They all start with
GOOD Grounds
.
Where are my DIY Links?

Settling In

Restore horn
Ok had some time today and while looking into the horn all of a sudden the button on the steering wheel started working.
But it seems I have dual horns so just the louder horn is rewired to the red button.
Should there be two spade connectors coming up the steering column?
1 guests and 0 members have just viewed this: None.