How do I go about assessing car's value, new member query?N

Newbie


f
I am the single owner since '89 of a VW Golf Clipper and need to get it valued for insurance purposes…Does the VW owner club have a 'resident' assessor willing to come by to appraise? 

Secretary




Hello there.
We don't have anyone resident to do this.
The best way may be to post up some photos of your MK1 and description to get a gauge on value here.
---
Andy
Yesterday's Cars -
https://www.facebook.com/yesterdayscars
LINCOLNSHIRE REGION - 
https://www.facebook.com/groups/467122313360002/
1983 MK1 Golf GTI Campaign Model - Under (looooong) resto!
1962 Rover P4 80
2003 E39 BMW 530i Sport

Settled In


Most classic insurance companies will accept a self-evaluated value of less than around £9,000. After that you'll likely need an official assessment. Wouldn't have a clue where to get one though.
But as above, post some pictures, spec and condition up and we can give you a rough idea on the value.

---
1991 MK1 Golf GTi Rivage - Classic Green Pearl

Moderator



All of the above but the more detail and clear pictures you can give us from all over the car the better.
Don't forget under the bonnet and if you can get it on a workshop lift get some from underneath.

Then we can give you a rough idea of what it might be worth from X to Y.

---
Sent by a smartphone and not a smartperson!
SEASON 4
We will be starting with the first car on Sunday the 29th of October 2017.
The last car will appear on Sunday the 25th of February 2018.
View topic: Guess the price 'Asking Price' of this MK1? - The Mk1 Golf Owners Club
Mike
There's me building mine 25 years ago, almost finished!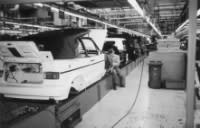 I have for years this old B&W photo of a Cabby being finished off on the production line here. But thanks to photobucket and there ransom demands I've had to search for hours and hours to reconstruct this which should have been a 2 minute job!
SCREW YOU PHOTOBUCKET and remember, hell ain't half full yet!
1 guests and 0 members have just viewed this: None.