Golf mk1 converable gti

Newbie

fuel problem won't start
H i really new here, so I'm not sure what I'm dong here, can anyone help me, my golf gti mk1 con, won't start, can the fuel etc be cleaned out (pump,meter,lines,filter)????????, its sparking but won't start been stood for a long time….Thank you any help please………..simon


Moderator



Welcome to the club first of all.

It's not clear in you post so I'll ask so it's clear to everyone.
Have you put fresh petrol in the tank?

---
Sent by a smartphone and not a smartperson!
SEASON 4
We will be starting with the first car on Sunday the 29th of October 2017.
The last car will appear on Sunday the 25th of February 2018.
View topic: Guess the price 'Asking Price' of this MK1? - The Mk1 Golf Owners Club
Mike
There's me building mine 25 years ago, almost finished!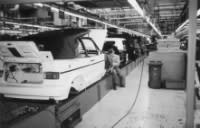 I have for years this old B&W photo of a Cabby being finished off on the production line here. But thanks to photobucket and there ransom demands I've had to search for hours and hours to reconstruct this which should have been a 2 minute job!
SCREW YOU PHOTOBUCKET and remember, hell ain't half full yet!
1 guests and 0 members have just viewed this: None.