Insuring a 17year old on a Mk1

Newbie

Anyone had any experience of this?
Hi,
My daughter has decided she wants a Mk1 as her first car - not a bad choice…
Has anyone ever bought their son or daughter a Mk1 for their first car and what was the insurance? I am looking for a 1.1 or 1.3 3 door at present.
Are mods out of the question ie. wheels and stance, or do the modified insurers also insure 17 year olds.
Any feedback would be appreciated.

Moderator



Welcome to the club first of all, clearly your daughter has good taste!

Now I'm not really the one to help as my son bought his first car last year and it was an Audi TT.

Well that and we live in Austria where the insurance system is somewhat different but having said that.
Smaller the engine the better, it will still have enough power to start with but most importantly stay away from 'Mods'!

I'm sure other members will confirm this but the young get hammered good and proper when it comes to mods.
Oh and a word to the wise but I'm sure you've heard this but in the event of an accident (god forbid) if the insurance company find a mod on the car that was not declared then that's it.
No insurance etc… not a nice place to be.

When you've got a budget for the car post it up here in the car wanted section, always best to buy from a club member when possible!


---
Sent by a smartphone and not a smartperson!
Play Guess the Asking Price 'SEASON 4' as of Sunday the 29th of October 2017.
https://vwgolfmk1.org.uk/forum/index.php?page=topicview&id=chat%2Fmk1-golf-chat_2%2Fguess-the-asking-price_2
OLD.
https://vwgolfmk1.org.uk/forum/index.php?page=topicview&id=chat%2Fmk1-golf-chat_2%2Fold-guess-the-asking
Ever wondered who's behind the scenes of this forum?
https://vwgolfmk1.org.uk/index.php?page=committee
Mike
There's me building mine 28 years ago, almost finished!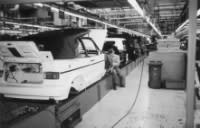 Be proud of your VW Golf Mk1, it's very special!

Settled In


Yeah mods are the issue. My first car was an 1100 C in Mars red which I promptly made to look like GTI. I declared the alloys which were 9 spokes, but my insurance didn't really understand thinks like arch spats, duck bill and the four button steering wheel! Your best bet is the 1300 Driver model which at least looks similar to a GTI, esp in black/white/red etc. I don't think a set of OEM alloys makes too much difference to a premium as long as they are sensible.  Theoretically a CD player would be a mod so a line must drawn somewhere with a vehicle at least 23 years old!
---
Compulsive buyer of knackered VWs!!!

Previous rides;

'81 Mk1 1100 C
'83 Mk1 1.8 GTI
'93 Corrado 16v 9A
'81 Mk1 GLI cab
'91 Mk2 16v KR
'89 T3 Whitestar
'87 T3 Caravelle GL
'95 Polo G40 LHD
'93 Mk1 Sportline LHD


Newbie

Thanks for the replies Gents


Settled In

You might find a specialist insurer will cover you and her on a multicar policy (talk to a specialist broker, not Admiral etc). I think most classic car insurers have a minimum age limit but you might be lucky with one of those too.
As said above, avoid lowering/wheels etc or make sure they're declared! Also be aware that you're not allowed to insure her car and add her as a secondary driver - if god forbid anything happened they could refuse to insure her if they deem she was the primary user. Any insurance when you're under 25 will be stupid money, you often hear of 1.2 shopping trolleys costing £3k+ for 17 year olds!

Old Timer


got my mk1 when i was 19 and insurance then (3rd party Fire and theft) was £1700.00 a year. That is with mods declared (non standard alloys and lowered). I am now 23 and my insurance is £600.00 a year

all with elephant. When i am 25 i will look at switching to classic insurance hoping to get it cheaper.
---
Flick
r
-
Flickr: ErosUK's Photostream
Insta

g

r

a

m
- @MK1_TOBY
1 guests and 0 members have just viewed this: None.