Hi From Minneapolis, Minnesota

Newbie

New to the Forums
Hi everyone,
My name is Aaron, I live in Minneapolis MN, USA and have had a number of water-cooled VW's over the last 15 years of my life (I'm only 30). Needless to say I have the bug badly!  My current VW's are:
1978 Golf 1.8t Project.
1989 Golf Rallye
2006 GTI Race Car
2010 GTI Daily Driver
Here are some photos for your enjoyment, I look forward to meeting fellow MK1'ers.
Aaron
Current Project
Race Car:
The Rallye:
2010 Daily:
Past Cars of mine:
16v 9A Rabbit on Digi 1 management.
83 GTI 1.8t
1989 Jetta ABF swap
1992 GTI 1.8 8V.
racing for APR motorsport in Continental Challenge.  2011 GTI
Life Member




Welcome along. You've got some great cars there.
Keep us posted on what you're doing with them.

Settled In

Hi Aaron
Great motors mate.
Your current project looks awesome

Keep updating us with your progress 

Moderator



Welcome Aaron,
Yep I can see you've got the bug and this Club is just made for you!

I can see your going to like it here big time!

---
Sent by a smartphone and not a smartperson!
SEASON 4
We will be starting with the first car on Sunday the 29th of October 2017.
The last car will appear on Sunday the 25th of February 2018.
NEW! As of Sunday the 29th of October 2017.
https://vwgolfmk1.org.uk/forum/index.php?page=topicview&id=chat%2Fmk1-golf-chat_2%2Fguess-the-asking-price_2
OLD.
https://vwgolfmk1.org.uk/forum/index.php?page=topicview&id=chat%2Fmk1-golf-chat_2%2Fold-guess-the-asking
Mike
There's me building mine 25 years ago, almost finished!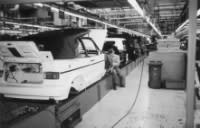 I have for years this old B&W photo of a Cabby being finished off on the production line here.
But thanks to photobucket and there ransom demands I've had to search for hours and hours to reconstruct this which should have been a 2 minute job!
SCREW YOU PHOTOBUCKET and remember, hell ain't half full yet!
Moderator

Welcome along Aaron. Lovely collection fo cars you have there.

Settled In


Welcome along, keep the updates coming

---
My New Year's resolutions are: 1. Stop making lists. B. Be more consistent. 7. Learn to count.

Old Timer


Greetings, nice motors

---
"Mk1 Golf Gti...all things to all men"
1 guests and 0 members have just viewed this: None.