Guide to 1.4 16c DOHC Engine Conversion
Having just carried out this conversion and after much heartache, scratching of head, swearing, having to be a member of Club Polo (not the best in the world!) and using every contact I know I thought I'd do a little guide.
I'd just like to add most of this has come from other sources. Thanks to Grungeisdead (Saf) and Euro-Derby (Vic) for all their knowledge and help with the build. Couldn't have done it without them. So standing on the Shoulders of Giants……….
Please note that there are different versions of this engine around. This guide relates to my experience of the AFH code engine! I have no idea if the later engines are the same or different!!!!! Probably the same but I cannot garuntee this!!!!!!!
The guides I've found are all for polo's, which while some of the info is helpful, some isn't or is just confusing. The golf is a little different and certain things that are a problem on the polo's aren't for us as we have a bit more room to play with!
This post  will end up with numerous edits as I go through the processes, find the info I used and parts I bought or sourced. I'll try to include links and part numbers where possible. Please feel free to add posts with links or info!
For a bit of background I also own a 1.8 carb'd cabby and a VW Derby with a 1300 small block engine on twin carbs. I know small blocks and big blocks.
Before we get the nitty gritty let me explain why I went for this engine and not a huge power turbo or big block engine.
Pros
Mk1 golfs were designed around the small block engine! Remember the 1.6 GTI was never panned but a 'modification' by VW Engineers in their spare time. As such the lightweight small block engines were what VW envisioned as being in the bay in the first place. As such larger, heavier big block engines were, in my view, always a compromise. The small blocks are lighter and as such help the handling. The cars nose isn't pulled into the corners like it is in the big blocks and the steering and suspension react better as there isn't a huge weight sitting over them.
It's cheaper. Both to tax (£140 ish a year IIRC vs £280ish for big block) and to buy in the first place.
It fits onto the small block cars engine mounts directly
It's all useable power! Do you really want 250bhp or more? Too much power in a front wheel drive car just ends up with a massive amount of torque steer and eventually a ditch or lamp post! 

70mph is still the legal speed limit, why have a car that does 150mph? Personally I like flinging it down B roads, not doing huge speeds on motorways!
I live in Cornwall. It's 100 miles to the nearest motorway and the dual carriageways are filled with Tourists and Old people or Policemen!
Mine has been rolling roaded and the freshly re-built engine with CBR 600 bike carbs, a stainless 4 branch manifold and a decent exhaust is chucking out 144bhp with a nice smooth torque curve.
It's a well developed cross flow head with better characteristics than the big block 16v head.
It's pretty.
Cons
It's a small block
Parts and bits and pieces are getting harder to find (especially the dizzy)
It's known to burn oil as it gets older. So be careful when buying (probably better to buy an entire car at least that way you can check the engine over throughly or budget for a re-build.
What are you going to need?
ENGINE
1 x 1.4 16v (AFH Engine Code) out of a Mk4 Polo 16v "Valver"Engine
Mounting Plate for front Drivers side mount
Modified Gearbox Engine mount (combine the standard Golf one and the AFH one)
GEARBOX, ALTERNATOR + STARTER1 x Mk2/3 Polo Alternator or mk1 golf starter1 x Mk4 Polo Alternator Pulley1 x Mk2/3 Polo 5-Speed Gearbox1 x AFH Strater Motor (Works with AFH Clutch and Flywheel)
FUELLINGSet of Bike Carbs – 600cc+Inlet Manifold made for the above – Bogg Brothers, DanST Engineering on Ebay or make your own
Facet Solid State PumpT-Piece'sFuel Hose
Hose Clamps
IGNITIONMk2 Polo DistributerMk2 Polo Ingition Amp Mk1 Golf Small block Ignition Loom (Some additional wiring is required)Mk2 Polo Coil / T25 CoilAFH Leads
King Lead from a mk1 golf or early polo
EXHAUST
4 Branch manifold for an AFH
Mk1 golf Exhaust
Joiner pipe approx 700mm to join the two together
Clamps
Engine Prep
Remove your AFH from it's Polo resting place
Remove the ECU, the injection stuff and throw it away. Sell the injection manifold as they are in short supply and go wrong quite a lot!
Remove Top Engine MountRemove Alternator Remove Power Steering Pump and Mounting Assembly off the engine, a large aluminium mount hold all this onto the block.The Mk1 golf Engine Mount will attach to the AFH Engine, but with only two bolts.This can be used but you should put a plate behind the engine mount. Use the original power steering pump mount you removed early as a template. I made mine from 3/4 inch steel plate. Cut to the same out line as the mount. A small notch is then also required at the bottom as there are ridge in the bottom of the block you will need to clear. Then drill holes to match the Power steering mount. Another hole is then required at the position of the 3rd hole from the engine mount. Drill and tap this hole so the engine mount is now mounted to the plate.custom inlet manifold. Bogg Brothers make these. They will also service and 'set up' your bike carbs too if required. It gives a decent starting point for getting it rolling. At this point it may be a good idea to check the inlet ports on the head. They are triangular in shape to allow for the injector squirt into the top of the port. These can be milled out using a dremel or similar to open them up and then can be matched to the inlet port. The inlet port will need to be made to fit the bike carbs you intend to use as they all have different angles and sizes between carbs and different size outlets on the carbs.
The manifold can also be tapped for vacuums (small for vacuum advance on dizzy and larger for servo assuming you're keeping it). There are two schools of thought for Vac Advance. Most poloists install a vac advance and then use a vac smoother to run onto the dizzy. The guy that made my manifold for me suggested this is total rubbish as the vac advance needs to be pulled from just behind the butterfly on the carbs and not from the manifold. The choice is yours. I'm not running vac advance on my bike carbs nor on my twin 40's. Both work fine.
Gearbox You'll need :
-1 x Mk2/3 Polo 5-Speed Gearbox1 x Mk1 golf 4 speed linkage1 x 5 speed gearbox mount from a polo
1x 4 speed mount from a mk1 golf
Speedo cable with a mechanical feed that will fit your clocks.4 of the 5 AFH Gearbox Mounting Holes match the 5 – Speed Gearbox. Bar that it fits without any other modifications
1x AFH flywheel
1x AFH clutch
1x AFH starter motor.
Polo 6n Clutch cable (you can use the mk1 golf small block one but it's ugly as it goes across the top of the engine.
(BTW this is the easy option! You can use other stuff but tracking down the parts is nightmare and it just adds a bit of lightness to the mix. No really necesary but there are guides out there. Google is your friend.)
A quick note on the mounting the gear box to the engine. You will have to Jiggle it a bit to get it to go over the driveshafts cup when mounting. It will go on honestly! You just need to tilt the gearbox around the back of the cup and it'll fit. I did this out of the bay and it was easy enough. It may not be possible to do it in the bay though. So change the clutch before putting it all in.
Alternator
The Mk1 golf Alternator fits the AFH engine but requires a couple of changes.You'll need :-Alternator Belt – 650mm - 680mm ribbed beltMk1 golf AlternatorAFH Alternator PulleyMk1 golf small block bottom alternator mounting bracket
FuellingYou'll need :-
Facet Solid State Pump and pressure regulatorORBike Fuel Pump (Self-Regulating) (use the pump from the same manufacturer as the bike would have originally had. DO NOT use a generic cheap ebay chinese peice of rubbish as it will just cause head aches! I know from experience)Fuel LinesFuel Clamps / Hose clampsT-Pieces
Ignition
Mk2 Polo Distributer (The Correct Late Electronic Mk2 polo dizzy - Part Number 030 905 205 A or 030 905 205 B)Mk2 Polo Ingition AmpMk2 Polo Ingition LoomMk2 Polo CoilAFH Leads
mk1 golf king lead
EXHAUST
AFH or Polo/Lupi GTI Standard Manifold and downpipeORStainless Steel 4-BrancMk1 golf exhaust
Stainless peice of pipe to join the two.
Carbs + Throttle Cable
 I used CBR600 Carbs + the original bike airbox trumpets. This is a bot hit and miss as some carbs will need the airbox when other you can strip down.
Mounted with samco-style hoses or silicone hose of the correct diameterWeber throttle cable part number 99901628Weber pedal block, part number 99901645Throttle Cable Adjuster for the above
Halfords push bike cable brake bits. Including angled cable feeds, ends and other bits and bobs.
Choke cable and all the bits from a small block golf or generic ebay jobbie.Weber Pedal Block works on the golf pedal and the weber throttle cables end was a direct fit with no need for filing into the bike carbs throttle lever assembly in some cases. In my case I needed to file of the end of the adjuster end to make it fit. It's also worth dropping some solder into the end of the cable to help it stay in place. This is the fiddly bit and a pain in the backside to get the lengths all sorted.
 Cooling System
You can use all your existing hoses from your old engine, maybe, if your using the original radiator with an expansion tank. If your using a top fill then you'll need new hoses (generic self bending pipes, that you can cut to length are good and some blanking ends for the unused ports on the engine)For the Coolant Temp Guage in the dash, you need to replace the 4pin yellow sender on the AFH engine (in the pic below), for a 2 pin black temp sender from a Mk1 cabriolet. Connect the original feed to the temp guage from the small block to one of the pins and connect the other to an earth on the block. (it's probably worth noting at this point that your temp guage won't read correctly and the over heat light will be on and flashing all the time. Follow Brian-O's comments to re-earth the clocks on this thread 
https://vwgolfmk1.org.uk/forum/index.php?page=topicview&id=technical%2Felectrics_2%2Funtitled_35  and
it'll work again. It's due to the way the original block was earthed.)
Oil Pressure Switch
Keep hold of the two oil pressure switches from your original engine, ones for low and one for high oil pressure.
There is only one hole in the AFH block for the oil pressure so you'll need a multiblock splitter to go into the block to run the sensors. Something like this 
GOLF GTI VR6 POLO M10 3 PORT OIL PRESSURE/TEMPERATURE GAUGE ADAPTOR T PIECE BAR | eBay
went for a 3 port so I could also use an oil pressure guage when running the engine up for the first time and during the running period. Use some PTFE tape on the threads and DO NOT overtighten it!
So that's your shopping list sorted.

Last edit: by borednow

Moderator



Wow Ian what a fantastic job you've done there and time and effort that went into this is amazing! 😉
I did try reading it all but I seemed to have passed out once I'd got through engine prep. 😊
But that's ok because I'm technically challenged by most stuff regardless of the technical level! 😂👍🏼
---
Sent by a smartphone and not a smartperson!
Play Guess the Asking Price 'SEASON 4' as of Sunday the 29th of October 2017.
https://vwgolfmk1.org.uk/forum/index.php?page=topicview&id=chat%2Fmk1-golf-chat_2%2Fguess-the-asking-price_2
OLD.
https://vwgolfmk1.org.uk/forum/index.php?page=topicview&id=chat%2Fmk1-golf-chat_2%2Fold-guess-the-asking
Ever wondered who's behind the scenes of this forum?
https://vwgolfmk1.org.uk/index.php?page=committee
Mike
There's me building mine 28 years ago, almost finished!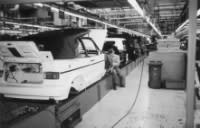 Be proud of your VW Golf Mk1, it's very special!
Golf Cabrio said

Wow Ian what a fantastic job you've done there and time and effort that went into this is amazing! 😉

I did try reading it all but I seemed to have passed out once I'd got through engine prep. 😊

But that's ok because I'm technically challenged by most stuff regardless of the technical level! 😂👍🏼

Sorry mate, I'll add some pictures for you, that might keep you awake a bit more!


Settling In

Ian,
What are you doing for vacuum for the brakes?
I'm using a new Polo 6R electric vacuum pump and an old Passat reservoir. With a vacuum switch, power relay a couple T fittings and an extra check valve it works fantastic. My setup is completely independent of the engine.
I have a Hueco self regulating high flow, low pressure fuel pump, part number 133010, it works great.
For cooling I used my factory 1.1L radiator and the factory AFH hoses from the Polo.
My exhaust is about identical to yours.
Carbs and ignition, throttle cable setup… we're worlds apart

Dual Weber 40 DCOE 151s and an MSD 6AL-2 programmable ignition (PN 6530), universal throttle cable meant for a Lotus super 7 that I cut down to size.
You can use the new Mk2 style temp sender in the AFH cooling neck and it works ok with the mk1 dash. I use that and have an additional aftermarket one sliced into the coolant hose.
I screwed in the old oil pressure sender from a Scirocco II 8V, works good with my VDO gauge. Didn't bother running oil pressure warning to the dash. My tacho is right next to the oil pressure gauge so I'm looking that direction often.
For transmission I have a CWV at the moment, but would also recommend 8N, 8P, CWX or DQW if you can find them. I have 4 of the 5 listed, no DQW.
---
See my videos, Tom W T F on YouTube

nedrager
Ta for the additional info.
I'm not running power assisted brakes. I've gone with a Cupra Master cylinder bolted directly to the end of the steering column against the bulkhead. To fit It I needed to modify the brackets and bolts on the end of the steering column (make them beefier and change the connecting tabs around and use longer bolts).
So more power required by the right foot but perfectly acceptable and even with 195 tyres on the front I can make it lock up.
TBH it doesn't feel much different to the Cabby where I've left the power assistance in place as it's the wifes car and she's little.
I too used a mk2 or late mk1 temp sender with no issues.
I had a stand alone oil pressure guage when I was running the engine in, it was in the bay though. I have since removed it as everything was looking good.
Ian
1 guests and 0 members have just viewed this: None.