Wanted- GTI Sportline/ Rivage
Settled In


Looking for a GtI sportline/ rivage to be a stablemate for my mk1 gti campaign! If you have one for sale or have any leads please let me know. Thanks in advance Carl
Afternoon Carl.
I have a red 92 sportline with 102k on the clock, good history which I'm considering selling. It's in decent nick albeit a few things could do with sorting - definitely easy to make mint. It has a few upgrades such as donnington engine rebuild, 16v brake servo, strut braces etc. It used to be my daily driver but hasn't been used for around 5 years as I've got a couple of other mk1s plus a company car.
If you're interested give me a shout and I'll give you more details.
Cheers
Hi Carl,
As promissed I've taken a few piccies of the car, please note I've not had chance to give it a decent clean so it's warts-n-all. I'll get some up later this week after I've cleaned it but time limited and not back again until Thurs
General Vehicle info
REG: J59AWE
1st reg 04/92
8 former keepers - I purchased 09/2006 last MOT'd 2015
102K miles
Decent Nick - Though not driven for 5 years (I've always had at least one Gti since 1996)
Decent history - VW main dealer, Awesome GTi, PSi tuning
Shoe boxes full of receipts - embarrasing amount spent
Electric roof
Keep fit windows
Straight panels, no rot in usual places (slam panel, bulk head, clutch cable, under bonnet, arches, aerial mount, filler neck etc all solid)
Mods
(no particular order - just as I remember)
Samco coolant hoses
OMP front strut braces
Eibach uprated ARB - Poly bushed
Stainless exhaust including manifold
Stainless filler neck
Quaiffe Quick steering rack
Stainless fuel lines
Stainless brakes hoses
TSR performace Brands Hatch engine package March 2009
https://tsr-performance.com/brands-hatch-2-0-8v/
Race fuel pump
Schrick uprated sump (lower profile better cooling)
TSR uprated flywheel and clutch kit
TSR Performance gear linkage kit
Magnecor leads
High flow air filter
16V servo and master cyclinder
Uprated discs and pads
Chin spoiler - Can't remember the make but I remember it being pretty rare (looks kind of OEM to me - appreciate it isn't)
Eibach suspension (slightly lower - not harsh)
Crystal lights
Leather seats (retrimmed cloth)
Cobra central locking cat 1 imob
Powder coated bits underneath
Bad bits
Paint bubbling in some areas (it's had paint previously - note the sportline stickers are lower than it should be - previous owner was the one who has it sprayed and thought it looked better?)
Slight knock on rear bumper - just paint (you can see on one of the images)
Silicone on roof around window and cable also bits inside (previous owner had a fetish I think)
White dash needles (clocks changed by VW main dealer due to an MFA issue - only ODO has orange needle)
Not run for 5 years
Chip on windscreen not an MOT failure
I have some BBS RA's (not the black ones)
I'm sure there's bit missed off!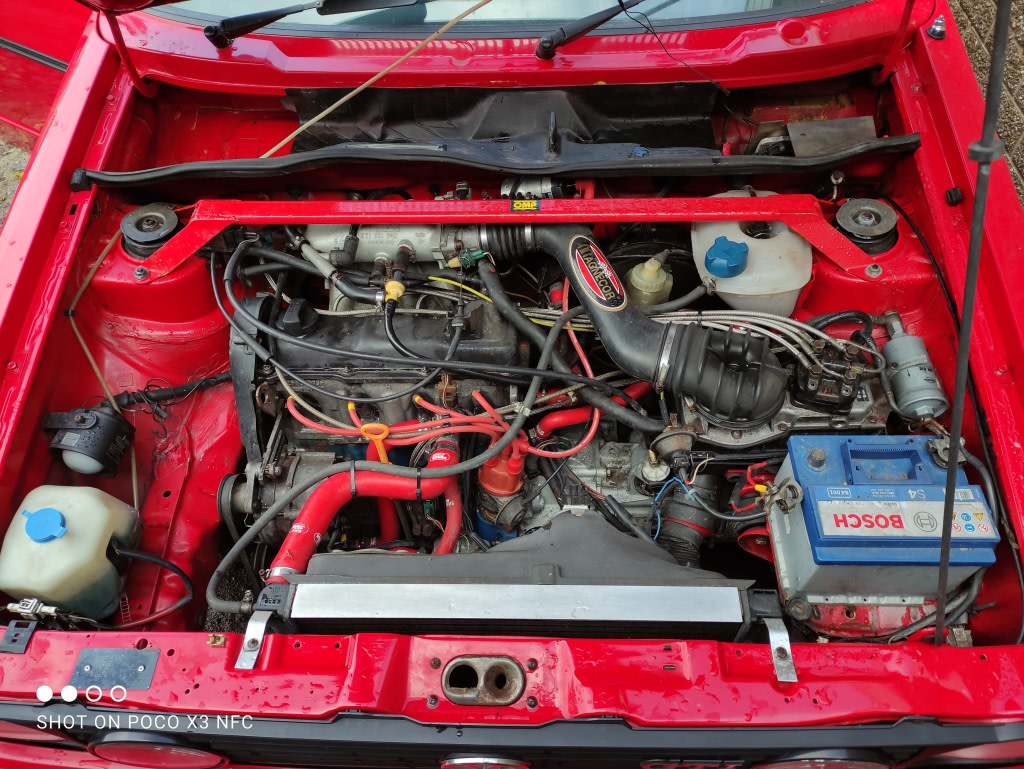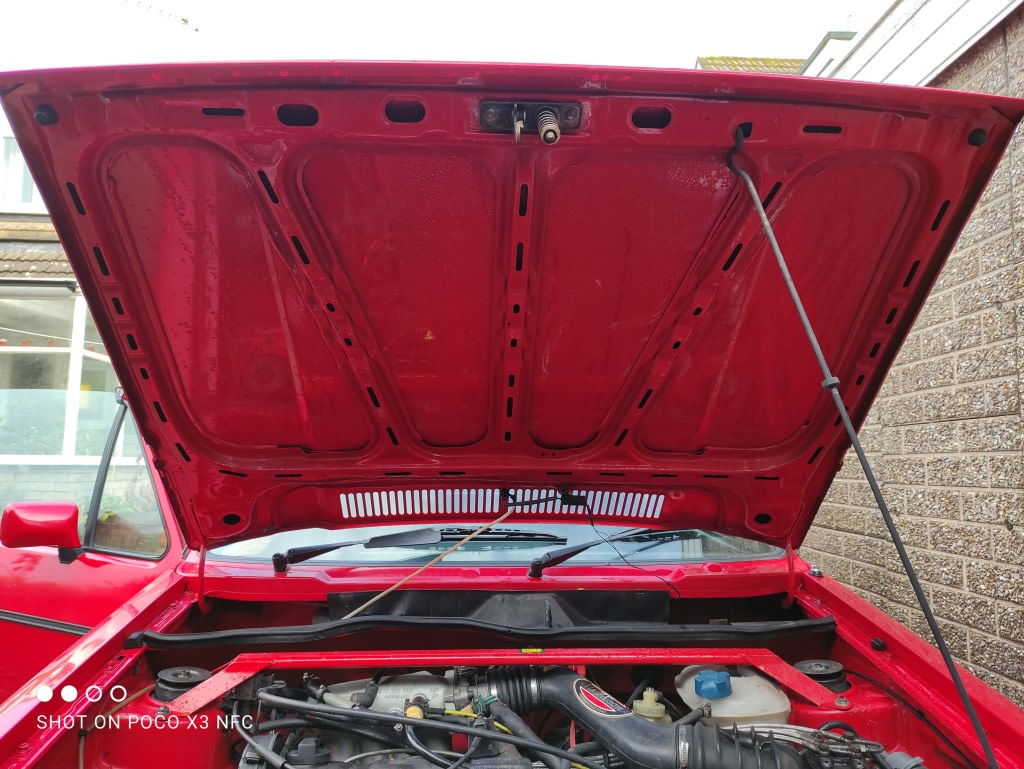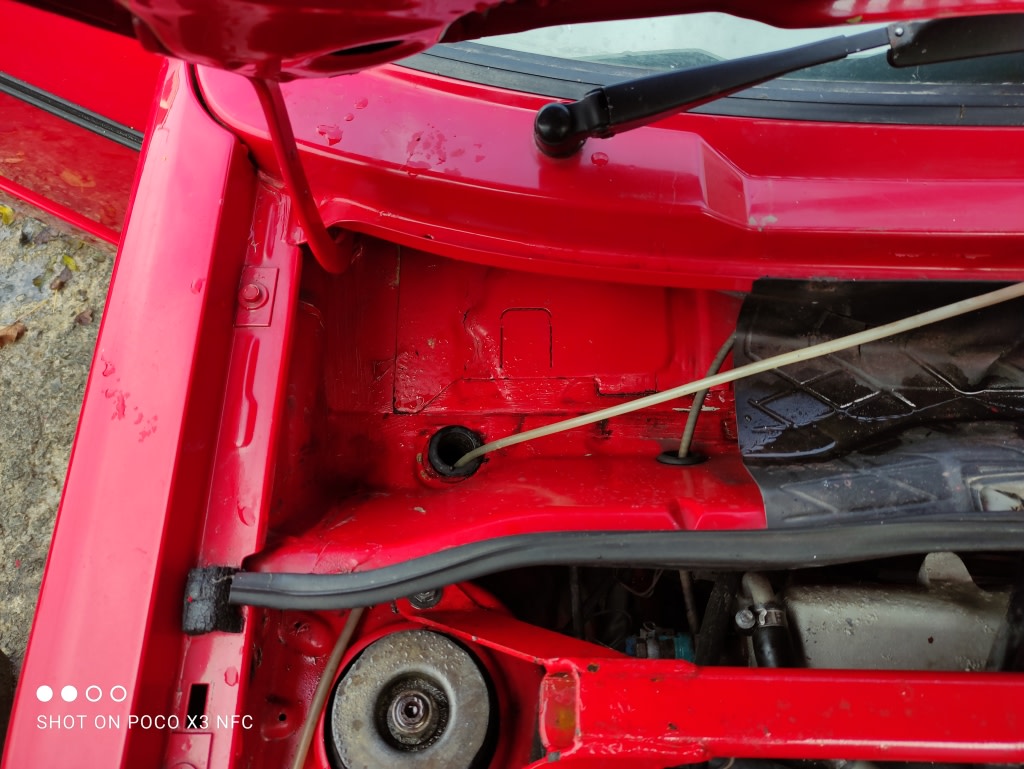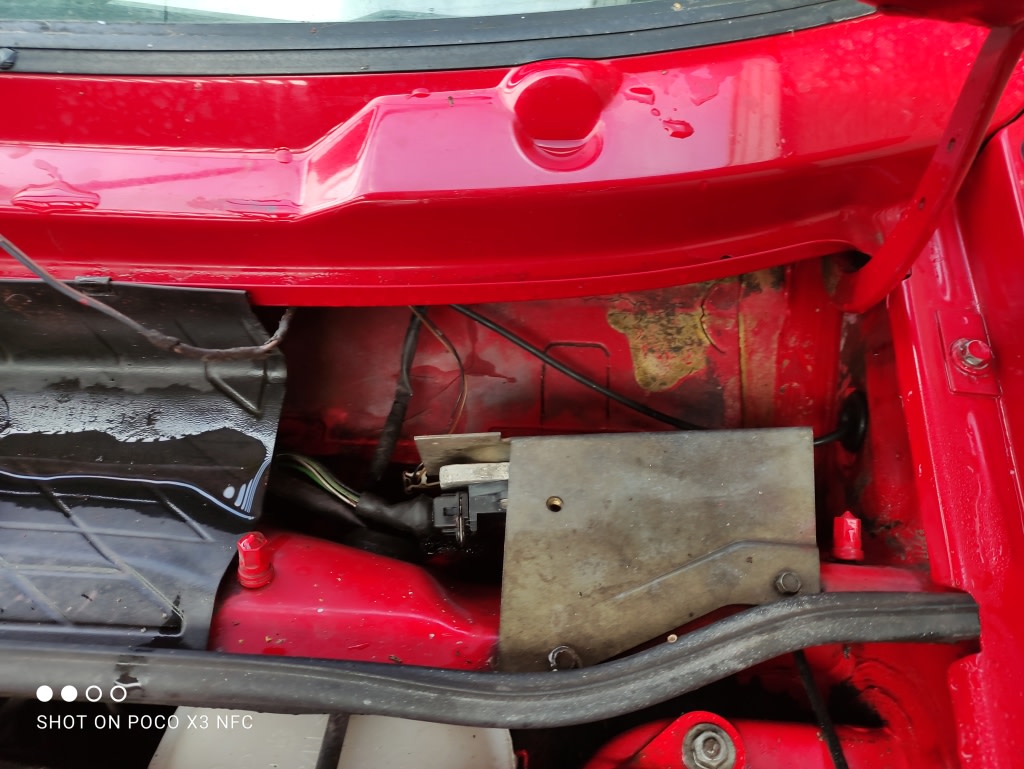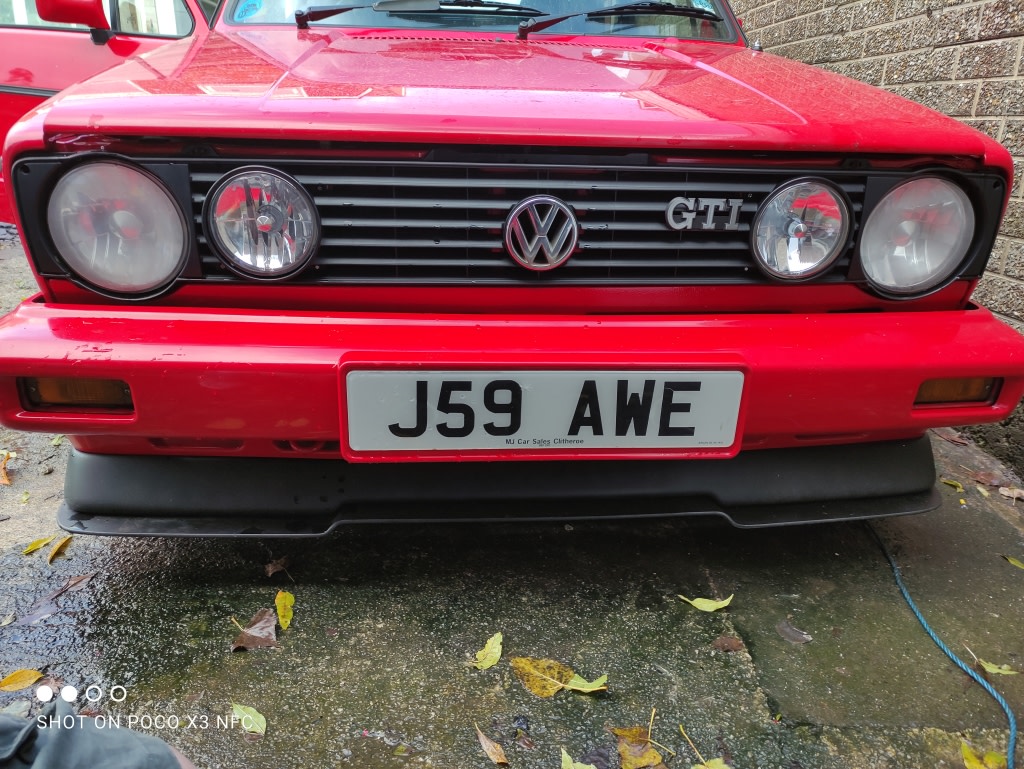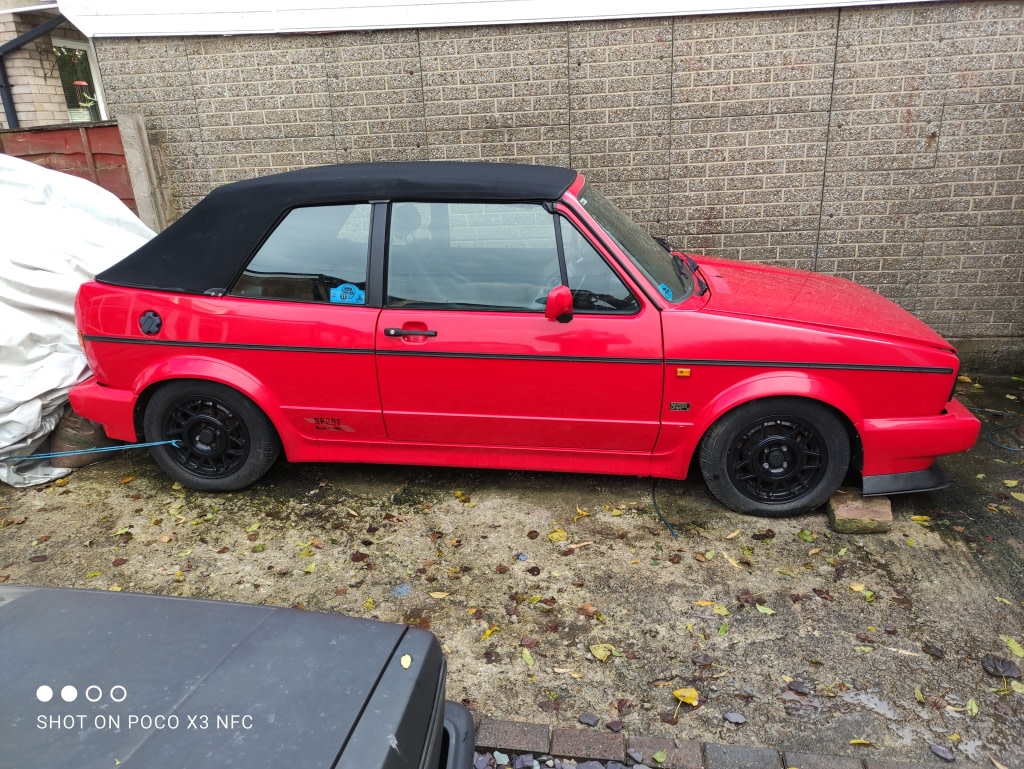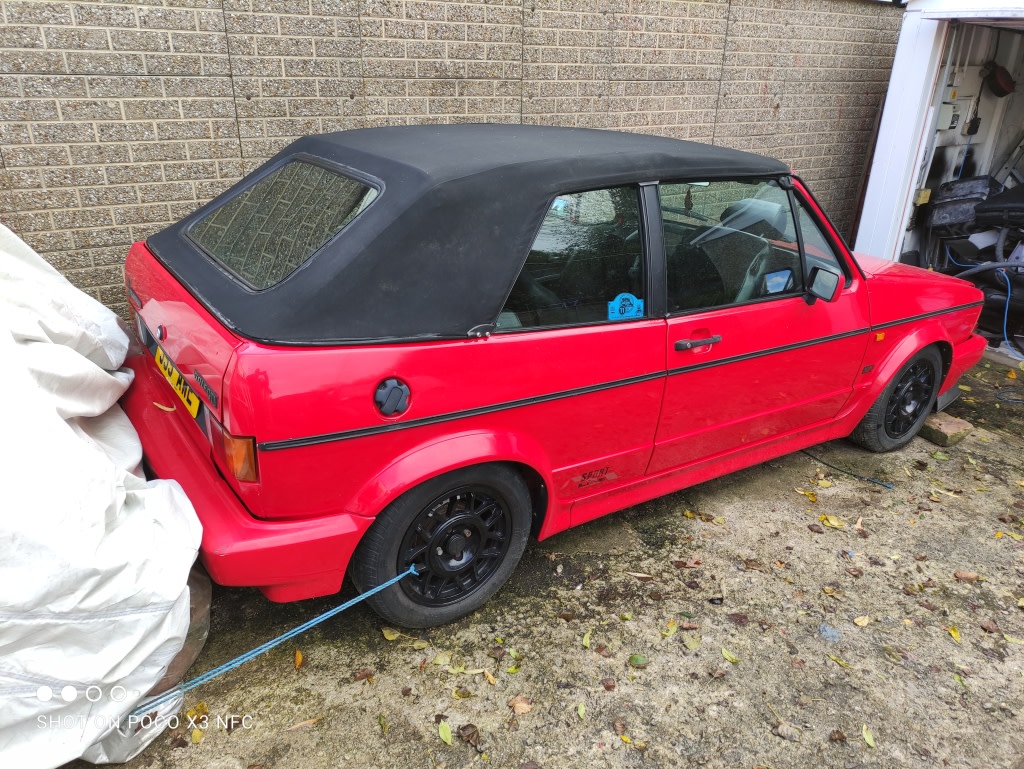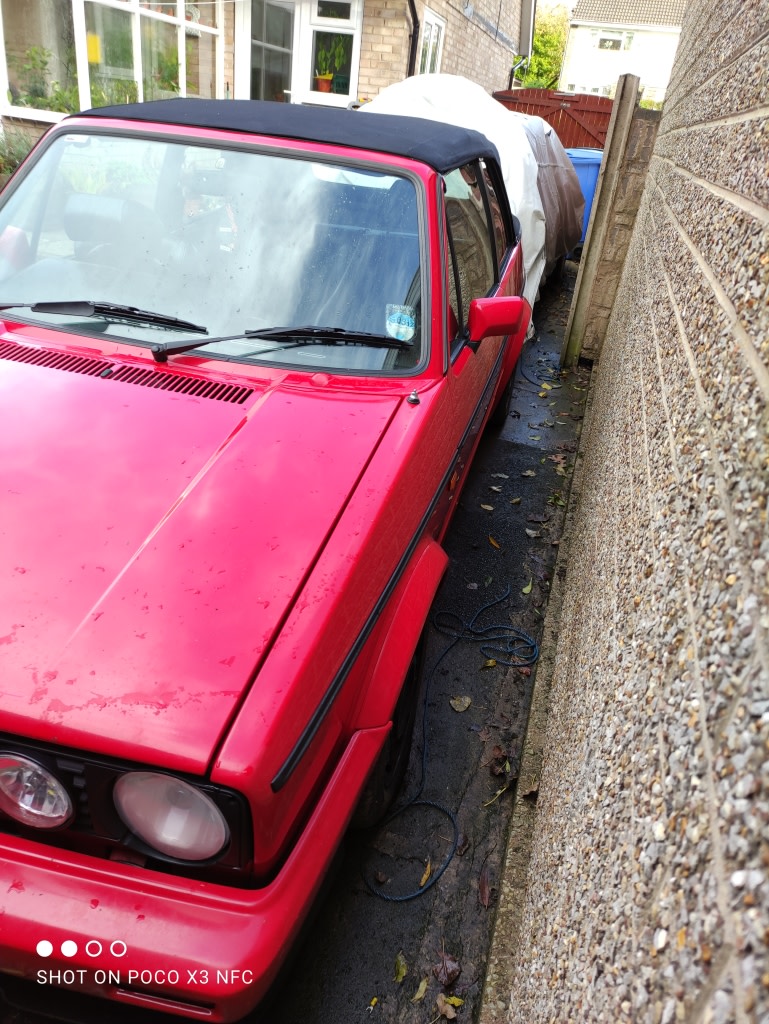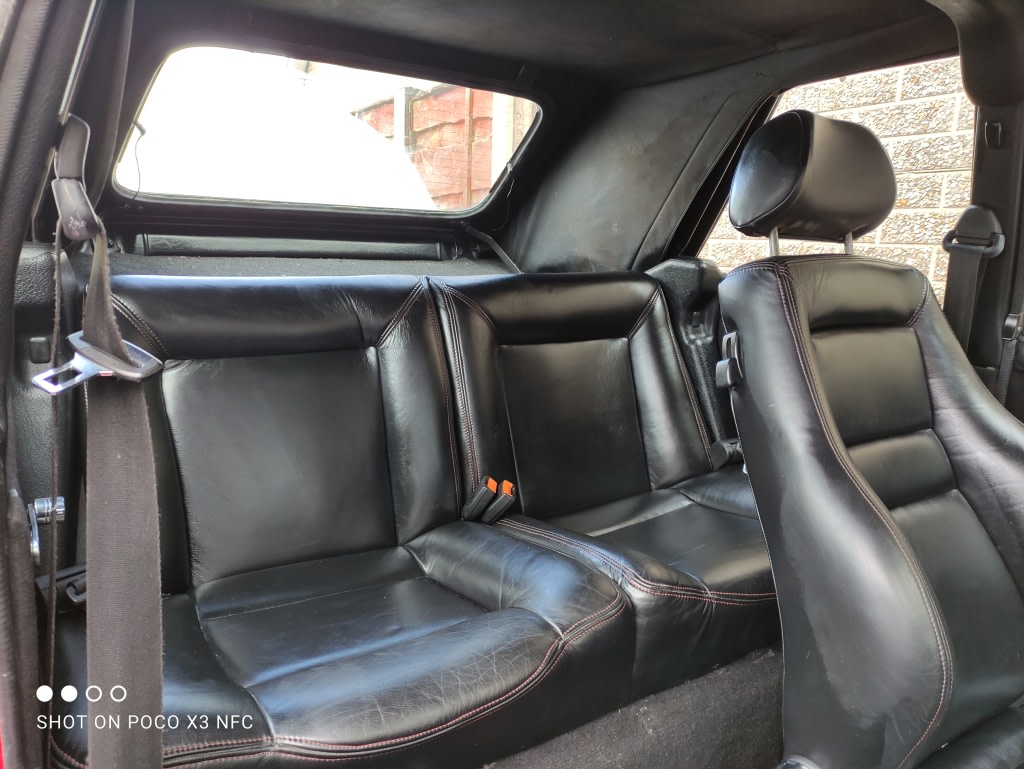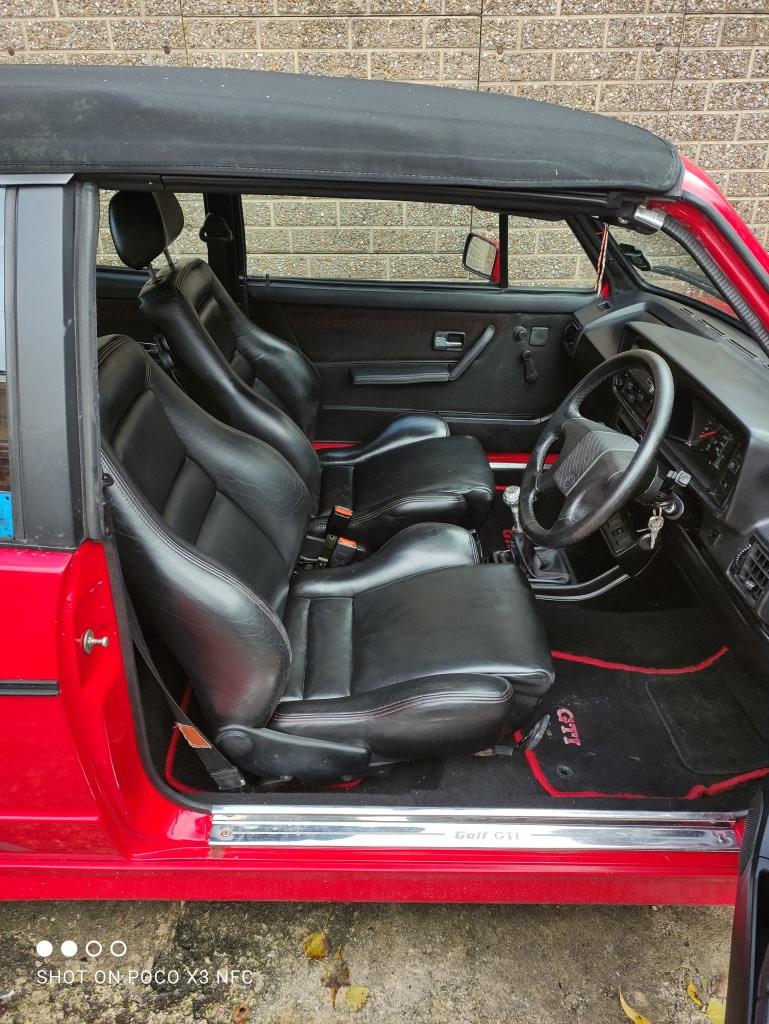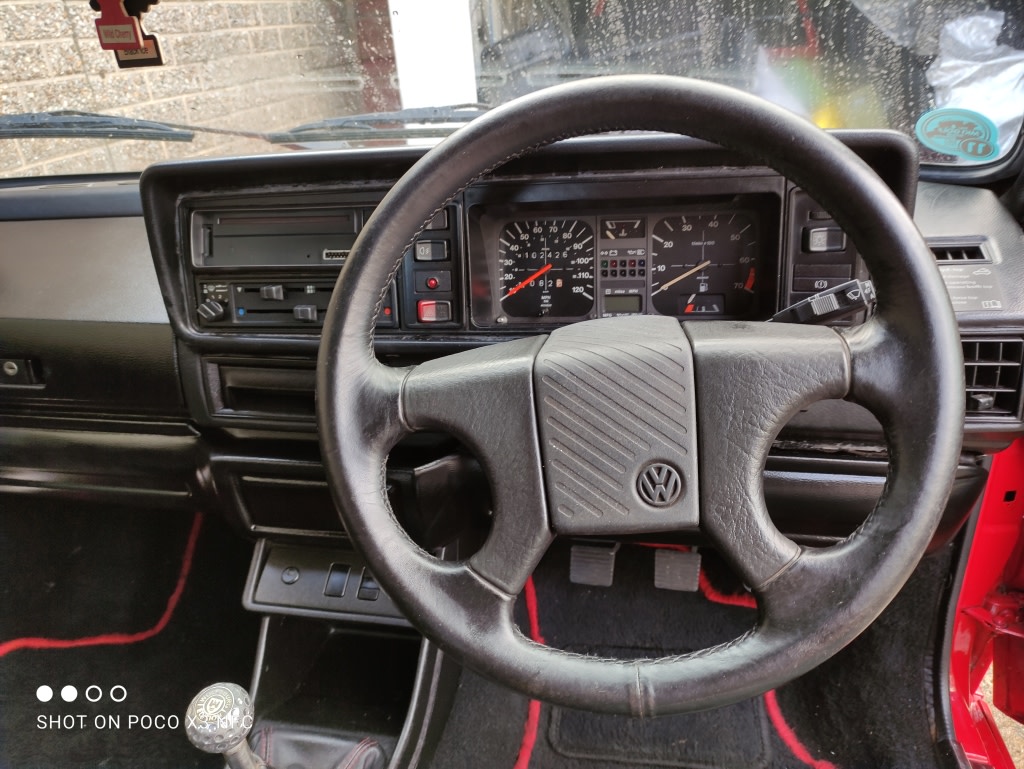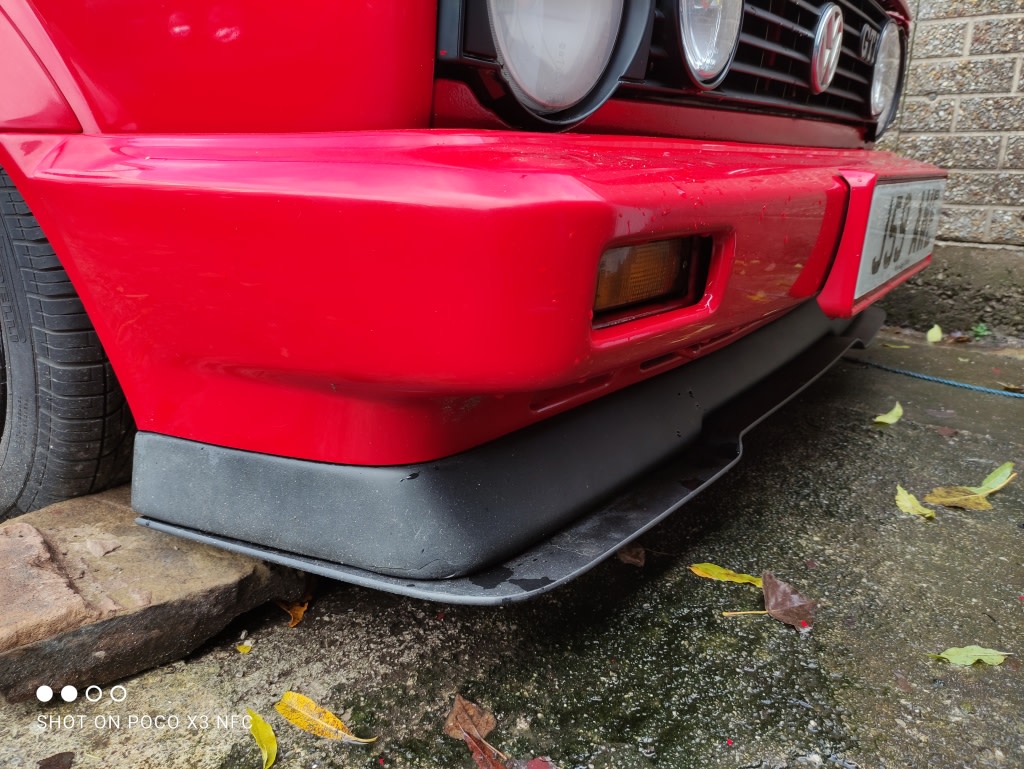 ---
MK1 GTi Cab '91' H Black
Mars Red Campaign - work in progress
MK1 GTi Sportline '92' J Red
Hi Carl,
As discussed I put new oil it in and managed to throw a bucket of water over it today (between the rain) and here are the pictures of the other side and back. I have videos of it running from cold - fired straight away and one of the exhaust to show what it's kicking out and how it sounds - let me have an email address so I can pop them over to you.
Some bad news, when moving it the brake pedal went straight to the floor. I had a look and tried to bleed the front etc it seems that one of the master cylinder seals has perished somehow and it's sucked air through. It'll need new master cylinder seals, new fluid. In fairness I'd probably look at going through the brakes anyhow after being stood for 5 years! I'd suggest new discs and pads - there's plenty of meat on them but for the money….
Apologies for the last picture, couldn't help indulging myself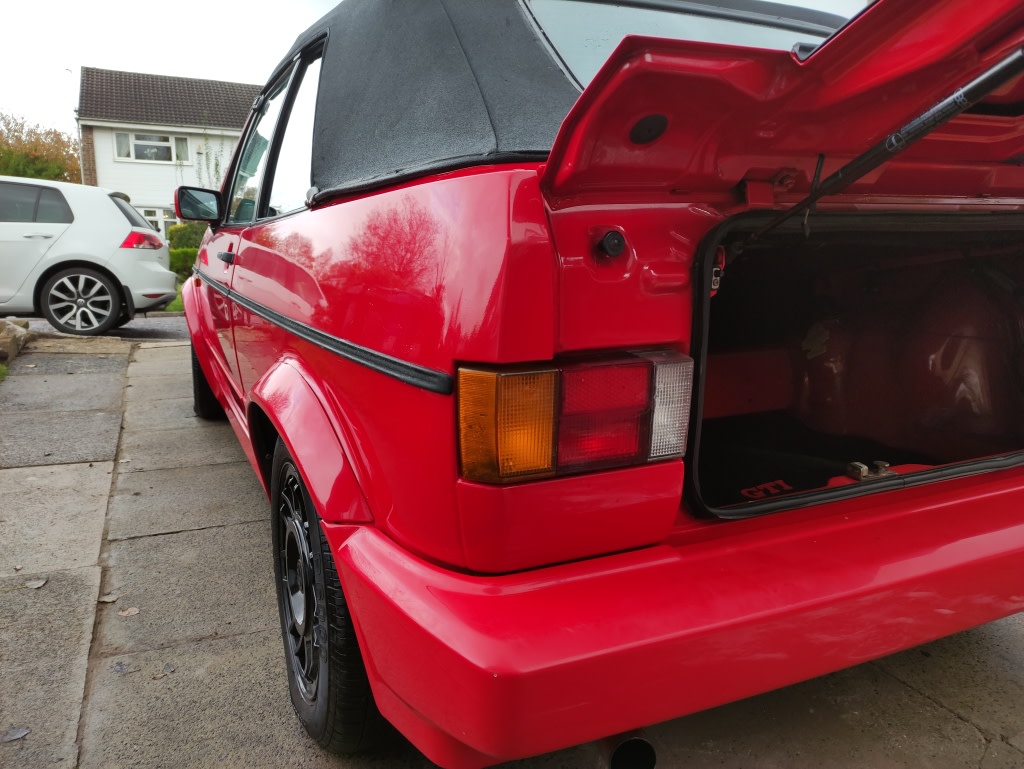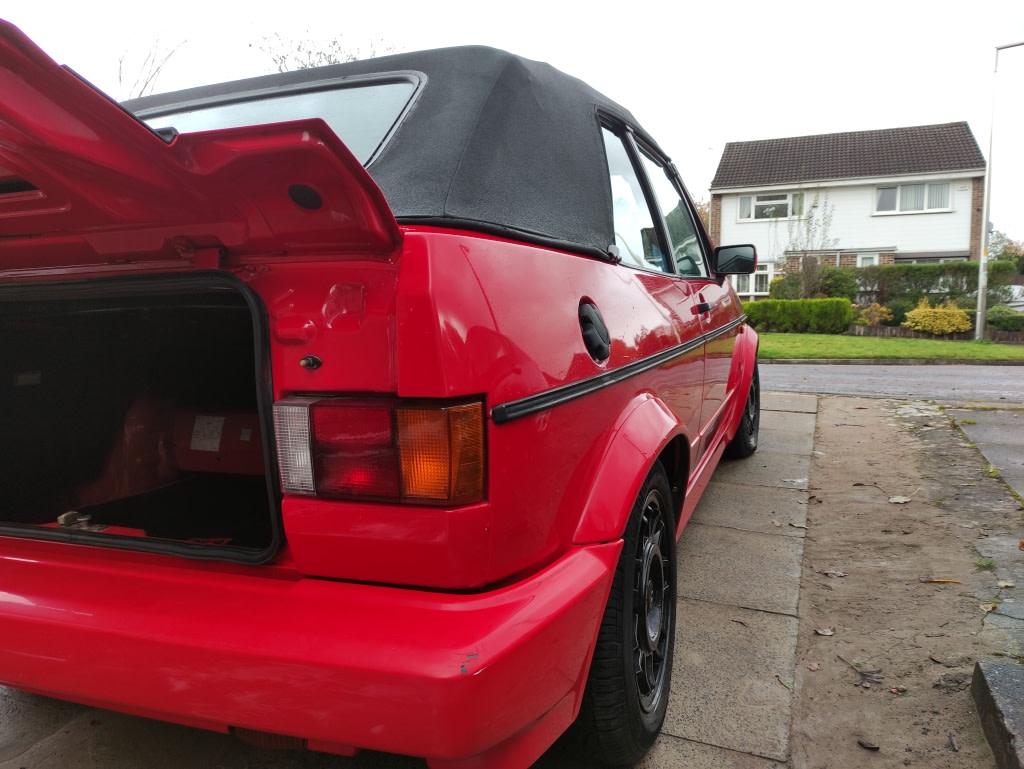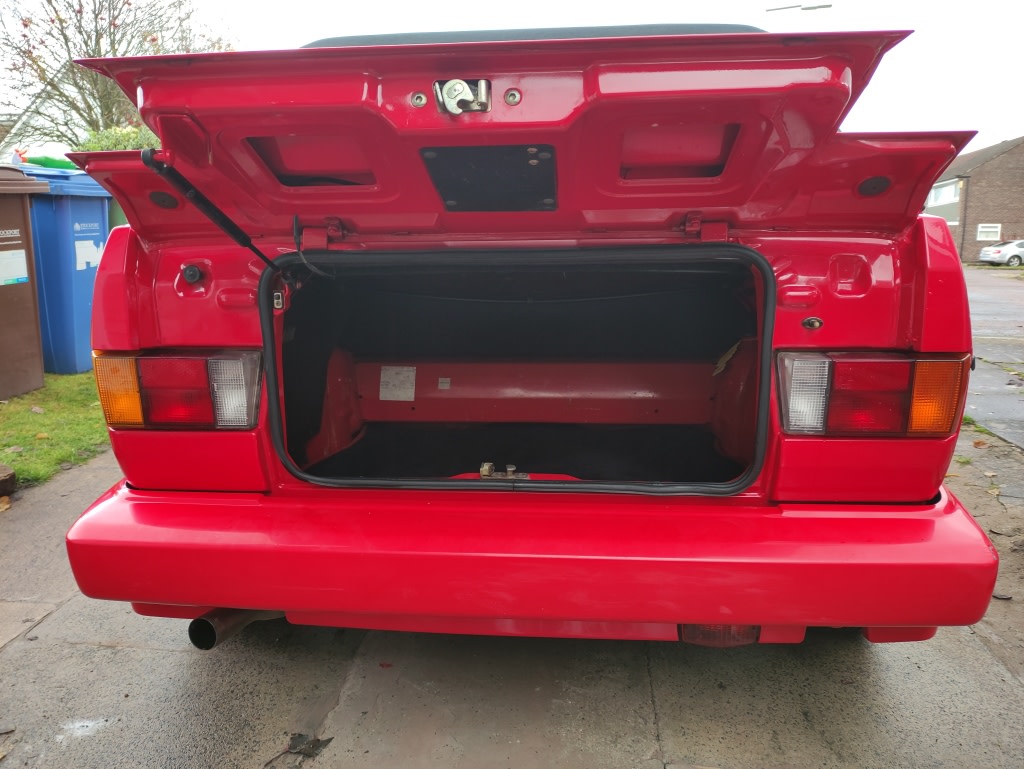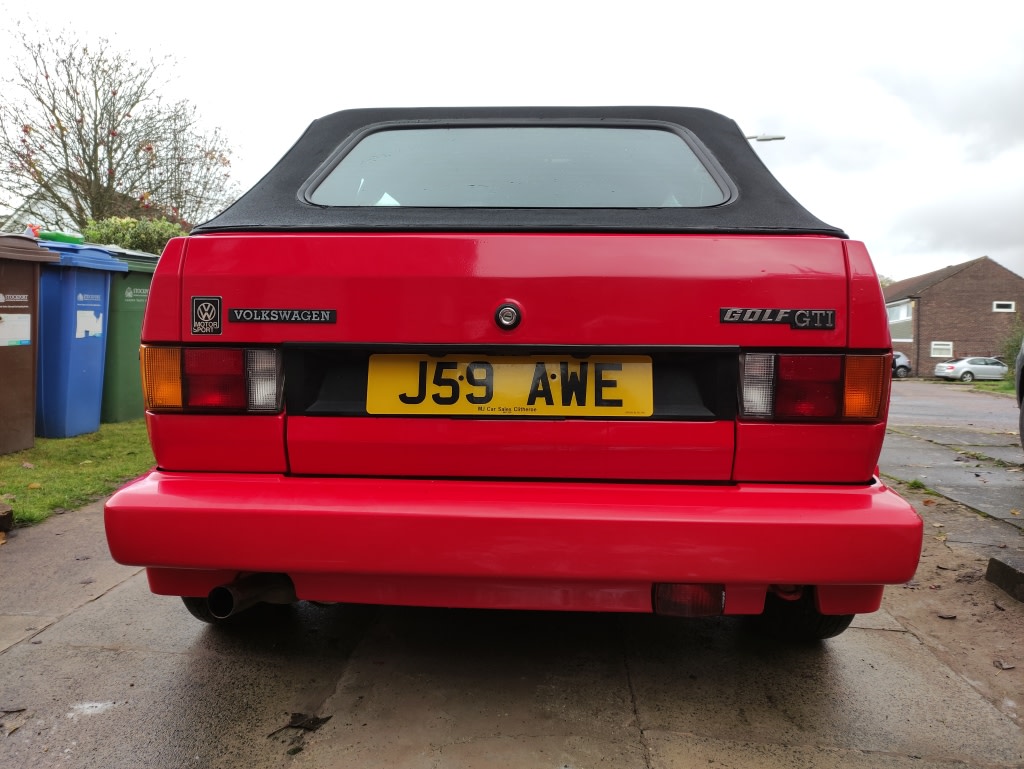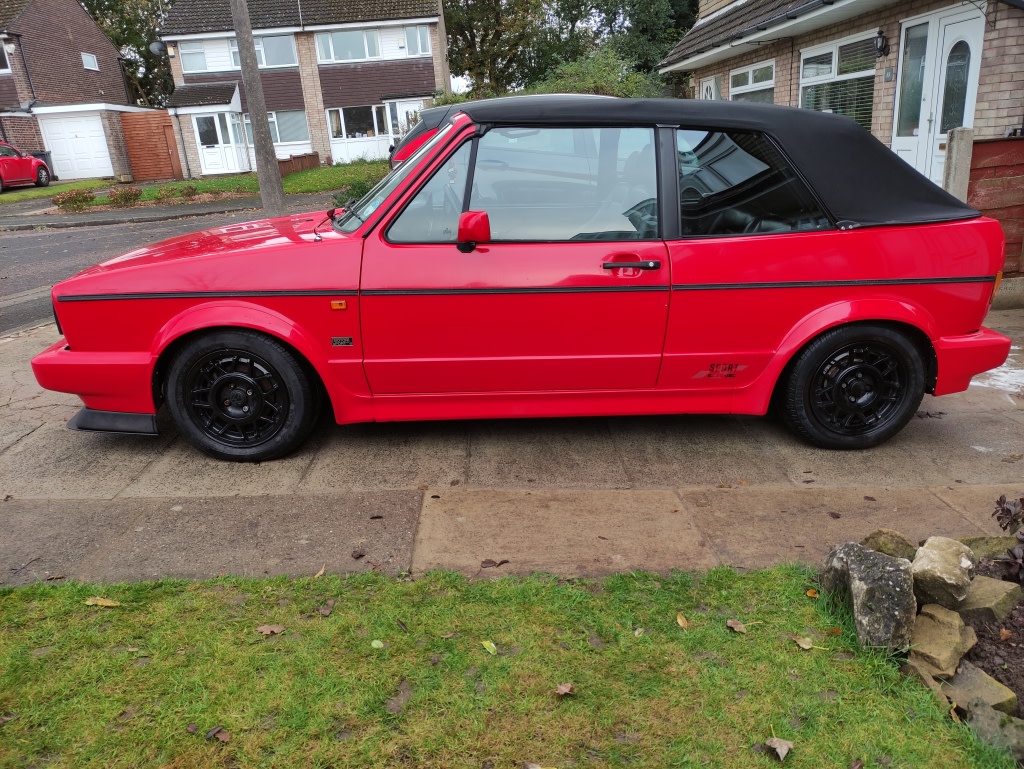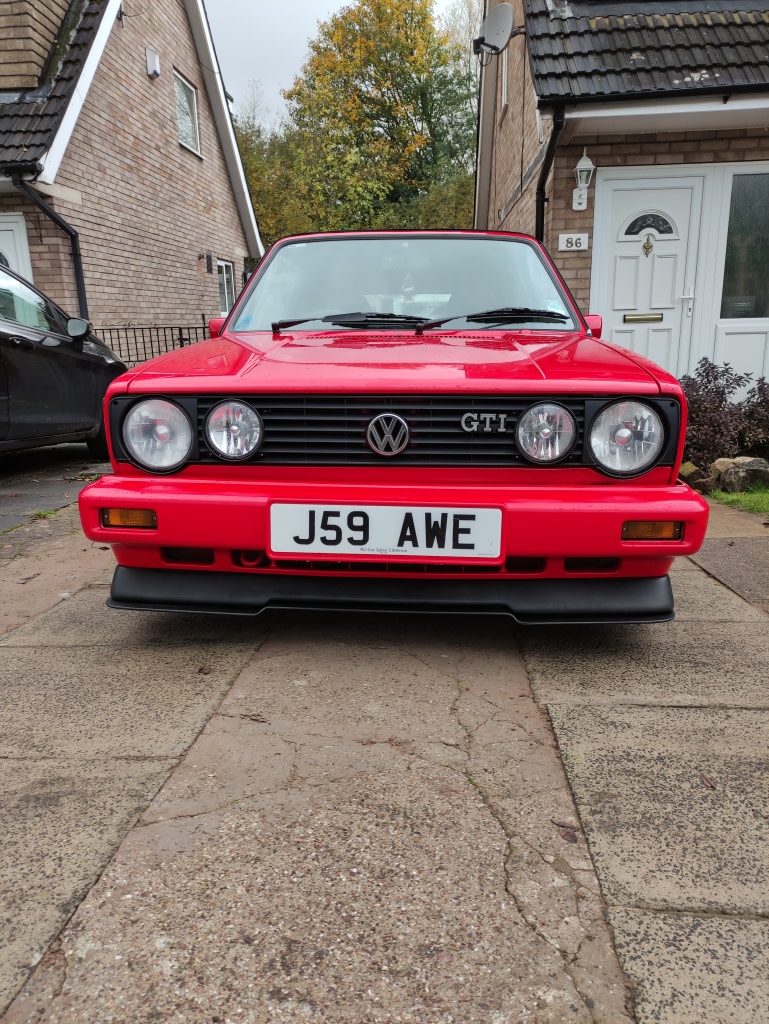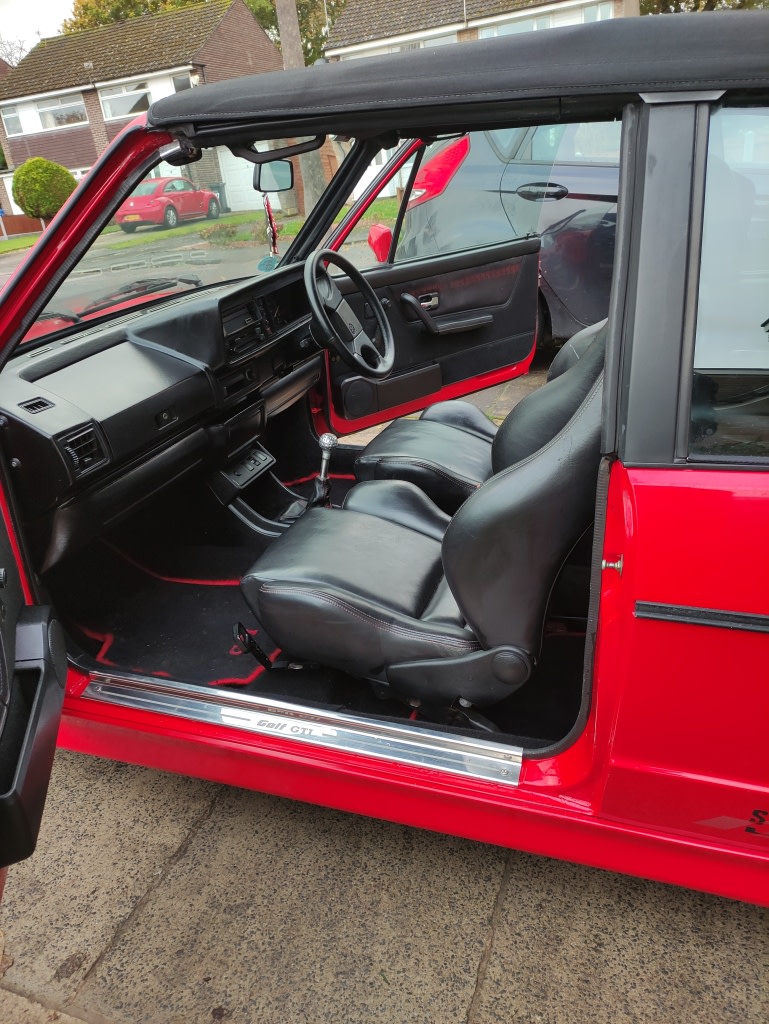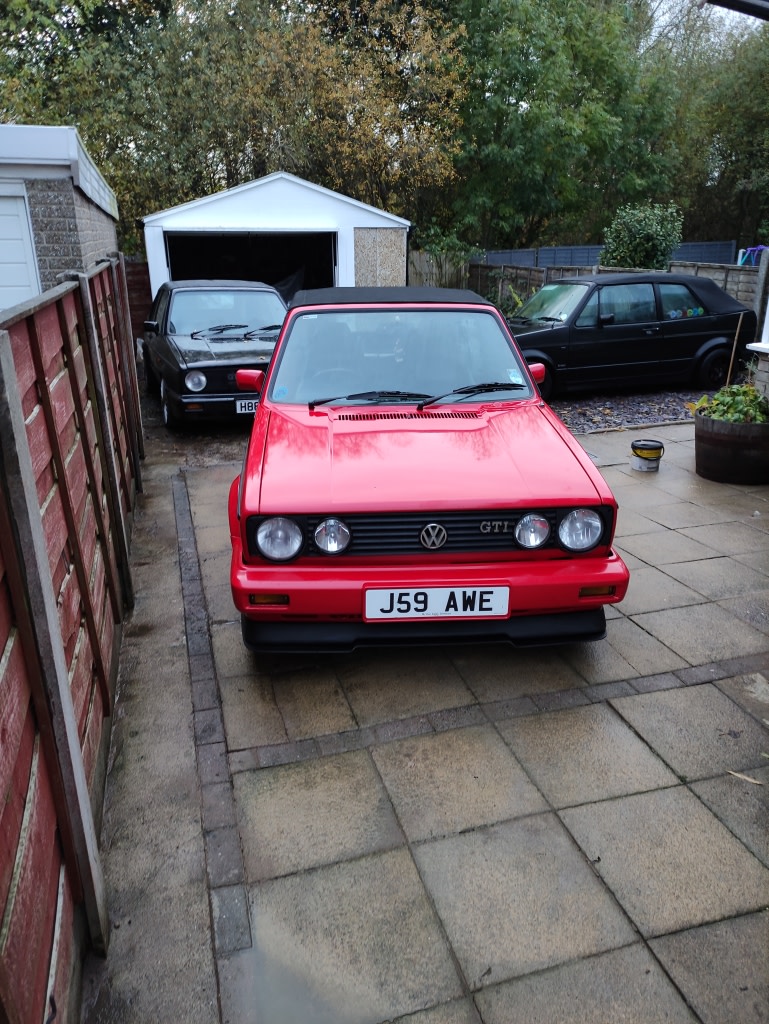 ---
MK1 GTi Cab '91' H Black
Mars Red Campaign - work in progress
MK1 GTi Sportline '92' J Red

Local Hero


---
On the drive
T25 Diesel…sameoldblueshiŁ (currently under resto)
Rocco gt2….1990 secret 2…(currently under resto)
Mk4 99 1.8t indigo blue Gti with 43k miles
Caster 93 clipper JH Green cabby
Snowy 91 GTi White cabby( sat waiting for inspiration)
Myvalver 89 GTi Grey mk2 16v
Yuppy Flu 91 GTi Flash Red Sportline 
Golf mk1 owner's club on Spotify
Mk1 golf owners club playlist:
Golf mk1 owner's club playlist - YouTube
Settled In


Hi so I now have a sportline to reside with the mk1 campaign. If anyone is looking for a sportline there is one on tradeclassics.com auction website.
0 guests and 0 members have just viewed this: None.