Looking for my old MK1's...
Settling In

I've looked on the government car check to find if any of my old MK1's are still on the road, but didn't get anywhere..
Is there a section on this forum for me to post a car search?
The reg numbers are,
A636RUB.. White Campaign.
CVN494Y..Black Pirelli Edition import.
JKH208Y.. Helios Blue Campaign.
CMG73V..Red Series 1 GTI.
I think the Red series 1 is owned by someone on here and is in Scotland. And the Helios Blue went to the Isle of Man?
Not sure on the others???

Local Hero


white campaign not tax'd since 2006
Black Pirelli is currently sorn'd last mot oct 2012
Helios Blue GTi not tax'd or mot'd since 2006
series 1 is currently tax'd (This month) and MOT'd
---
Regards Volkswarren
X2 1983 A REG EW CAMPAIGN In WHITE(Awaiting full rebuild solid body)

 & T Reg S1 GTi Project, Still Looking for Series 1 GTi's or a 16S Oettinger to restore (Complete Cars only)  or an A reg Lhasa Green or White Gti to restore, also consider  Black, Red or Blue, Also Golf Driver Project Wanted anything considered WHY

Moderator



For you and all the others trying to find your old cars. 
Use this website for a quick check to see if it is still in one piece!  

https://www.vehicleenquiry.service.gov.uk/

The website is not covered to my knowledge by the official Secrets Act!

---
Sent by a smartphone and not a smartperson!
Play Guess the Asking Price 'SEASON 4' as of Sunday the 29th of October 2017.
https://vwgolfmk1.org.uk/forum/index.php?page=topicview&id=chat%2Fmk1-golf-chat_2%2Fguess-the-asking-price_2
OLD.
https://vwgolfmk1.org.uk/forum/index.php?page=topicview&id=chat%2Fmk1-golf-chat_2%2Fold-guess-the-asking
Ever wondered who's behind the scenes of this forum?
https://vwgolfmk1.org.uk/index.php?page=committee
Mike
There's me building mine 28 years ago, almost finished!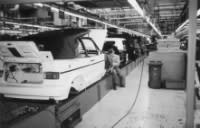 Be proud of your VW Golf Mk1, it's very special!
Settling In

Yeah that's the website I've done my search on! I knew all this info, just hoping a forum member might have one of them…

Newbie

Just buying Cvn494y. What can you tell me about her?
0 guests and 0 members have just viewed this: None.