Gear linkage repair kit advice
Settled In

I need to replace some of the bushes and linkages on my 5 speed gearbox asits getting sloppy.
I can see plenty of kits on eBay that all look very similar to the ones sold by most VW specialists too. I imagine VW stopped making these years ago, and I seem to recall that Febi Bilstein made the most reputable replacement. 
Any ideas if the Febi Bilstein ones still exist, or if the ones on eBay are of decent quality? Any suggestion or experience is welcome.
I don't fancy wasting a morning swapping everything over to find they're not great and don't last that long! 
Thanks
---
1979 Inari Silver GTI
1980 Mars Red GTI BRMotorsport 142

Local Hero

I had bought a couple of link kits over the 300K miles that I owned my Diesel, I bought them not from a dealer but from a Parts store that was local to me (pre-internet days). IIRC one was Meyle, and the other unknown.
When I was rocking a 90 Cabriolet that was days away from a re-spray when it was totaled, I had bought a kit from EBAY, it worked and stopped the sloppiness.
I used the rubber bushes under the links, and applied a modicum of grease to the inside of the cup of the link.
I added a 1 pound weight to the solid shifter link, and a Missinglinkz short shifter kit. After that I had positive engagement with a shorter shift that stopped me from using the middle of the passenger seat (LHD) to engage 5th gear.
I don't know if FEBI or MEYLE are the brand they once were, as most of these "KIT'S" are made in China or Thailand…. I got a MeisterKraft part that although the box said made in Germany, (I suppose the box was) the internal part said Made in China….
I will say that the last couple of parts that I got in a URO box said made in Germany on the label inside and out.
I have to admit that I purchased a Altrom Brand upper water flange on my 90's the bag that it came in was labeled as made in IRELAND. It did seem to last a wee bit longer than the Meyle branded Chinese part.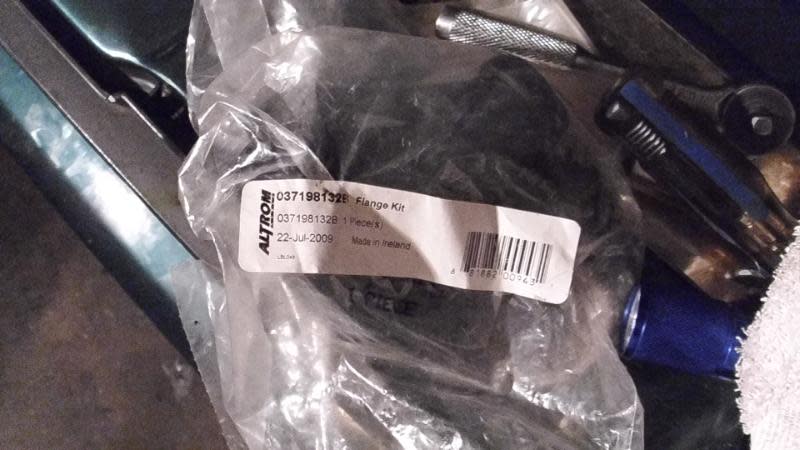 Converting it to metal resolved all those issues of cracking ears and leaks.
So with that said, get the better bang for your pounding.
---
What do Divorces, Great Coffee, and Car Electrics all have in common?
They all start with
GOOD Grounds
.
Where are my DIY Links?
Settled In

Thanks.
I've found a seller that buys the parts in from Europe rather than the Far East, so let's give them a try. I think my options have been limited I reality as very little seems available anymore.
I'll be installing them next week.
---
1979 Inari Silver GTI
1980 Mars Red GTI BRMotorsport 142
1 guests and 0 members have just viewed this: None.