Engine Identity in '93 Golf Conv??
EZ or EX??
Hi, I'm new to Water-Cooled VW's although I have dabbled with Air-cooled over the years…. I've posted previously in "Heeeelp" but I think this section is more in the nature of "general/non-urgent queries"? I'm starting a resto of a '93 Golf Convertible….. Body seems good so far, needs a roof and carpets. Engine obviously hasn't run for many years. So that seemed the obvious place to start.  I took the decision to remove the cylinder head - mainly because I broke a spark pug in trying to remove them. That's NEVER happened to me before! Thankfully someone seems to have  squirted some kind of oily preservative into he cylinders (apart from the one with broken spark plug - obviously he couldn't get it our either!) and there seems to be little wear/slop/play. However I think he - or someone - has done some "Bitsa" engineering…………. So I'm hoping forum members may be able to clear up some mysteries for me…
1. V5 and Boot sticker says it's an "EX" prefix engine - 1800 - which I believe would be the correct one? However the engine block has an "EZ" prefix which I believe to be a 1600. Having now removed the head and measured the Bore and Stroke (81 x 77) I think I can confirm this. However the head has a clear Pt No of 026 103 373Q which I think I have read is for an 1800 unit. Given the the bore is the same on both engines I guess the head is interchangeable? Can anyone throw any light on this? Hard to understand why someone would replace an engine with a smaller unit??
2. Assuming it is an EZ/1600 which Carburettor should I have? How do I identify the one I have got?? It's definitely a Pierburg ..
3. Which car would an "EZ" engine have been fitted to? I ask because it would be nice to track down a workshop manual that applies to the engine. Niceties such as timing marks etc are still a mystery.
4. How can I identify whether "my" head has hydraulic tappets?
Thanks in anticipation!
Info on tappets. Yours should be hydraulic as it was approximately 1984 when VW switched to hydraulic tappets, but you can see the difference and pictures in this thread.
https://vwgolfmk1.org.uk/forum/index.php?page=topicview&id=helllllpppp%2Fhydraulic-tappets-or
Can you post up a picture of the engine?
EZ engine are from a Mk2 Golf, 1988 to 1991
The timing marks etc will be the same as they are the same engines.
Have you checked the stamped in engine code as it could be dirt covering the X and making it look like a Z, a wet cloth can sometimes help?
1.6 heads have the main water outlet going to the radiator between cylinder 1 and 2.
1.8 heads have the main water outlet between cylinders 3 and 4.
Either head will fit a 1.8 engine block or 1.6 engine block.
There is sometimes a 1.8 or 1.6 cast into the back of the engine block so check there as well.
---
1988 Mk1 Golf GTi Cabriolet 1.8cc DX, K-jet. Daily drive. 300,000 miles and counting
1978 Mk1 Scirocco GLS 1.6cc FR, Webber carb. Weekend toy.

Local Hero


Think post 1984 (MK2 production) all big blocks had the water outlet between 3 and 4?
Be wary of 1.6 or 1.8 casting marks as the same blcok was used for both so can be misleading
The 1.6EZ was prob the easiest engine to find if the original Cabrio one had died and needed replacing
---
1983 Mars Red 1.8 Golf GTI
1987 Alpine White 1.8 Clipper Cabriolet

The trouble with doing nothing is that you never know when you are finished.
Yes your right, just Googled a EZ 1.6 Mk2 Golf engine and the water outlet was between 3 and 4…
---
1988 Mk1 Golf GTi Cabriolet 1.8cc DX, K-jet. Daily drive. 300,000 miles and counting
1978 Mk1 Scirocco GLS 1.6cc FR, Webber carb. Weekend toy.
Gentlemen - once again my thanks for some excellent and quick info.
I attach pics 1. The engine prior to stripdown 2. From today of the cam area. 3 the engine No
Looking at the link from mark1gls it seems I do have an 1.6 EZ with hydraulic tappets.
Any ideas on the carb I should have?
Cheers
Peter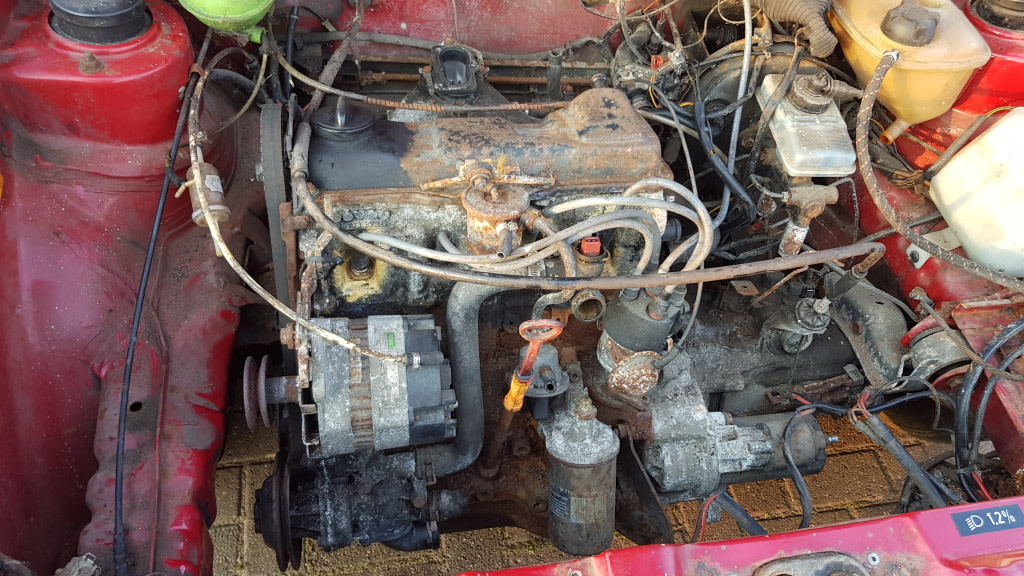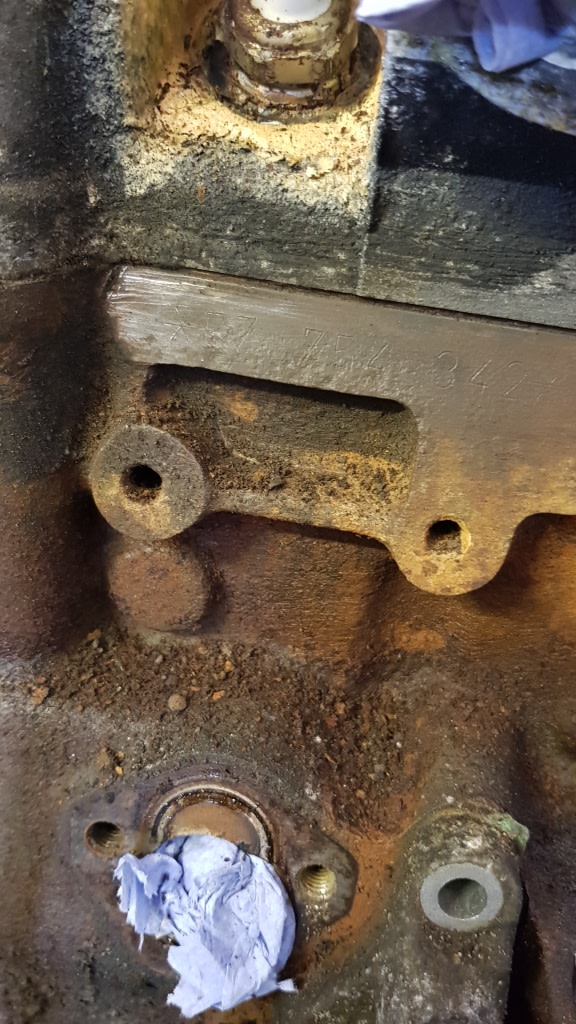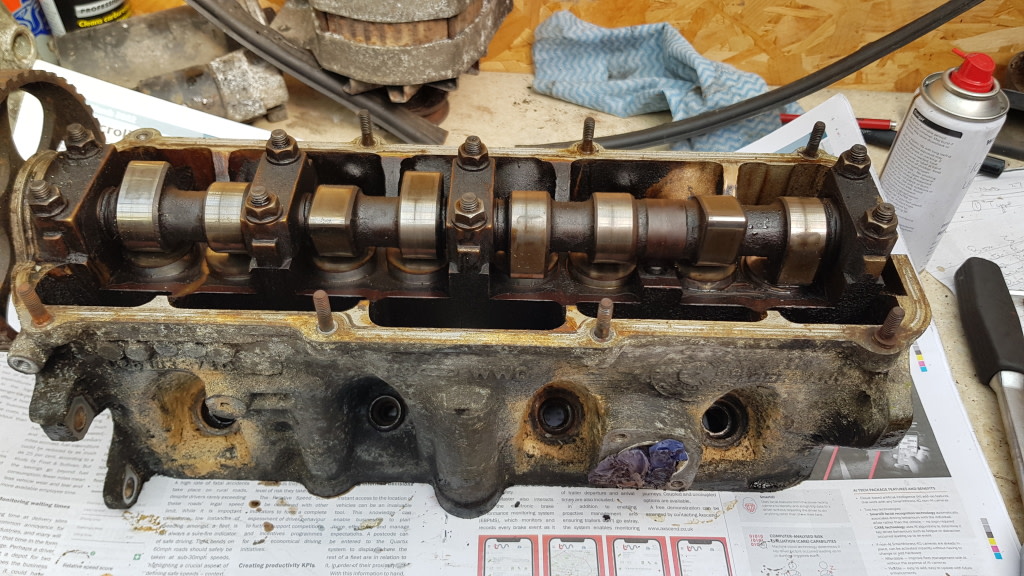 Instead of spending time on the 1.6 engine why not try and find the right 1.8 EX engine?
---
1988 Mk1 Golf GTi Cabriolet 1.8cc DX, K-jet. Daily drive. 300,000 miles and counting
1978 Mk1 Scirocco GLS 1.6cc FR, Webber carb. Weekend toy.
TBH I'd had exactly the same thoughts….
….and if I'm doing that maybe even an 1800 injection unit or a 2 litre?
Watch this space…..
Once again thanks for your help. And I thought Beetles were complicated!
P
0 guests and 0 members have just viewed this: None.