Performance direct gave me a great price
Settled In


1.8 gti with mods
As I have another car that I use daily as I'm sure most of you do, I can't use my no claims bonus that I have built up on that car, and had been getting pretty high quotes elsewhere. The last time I insured it to get it to its mot a couple of months ago I used Admiral as I hold my other policy with them, which would have cost me over £500 for the year, although I cancelled after just paying for a month.
Performance direct (using a third party underwriter) insured me for £196 for a year which I was very pleased with.
This is as a 22 year old, held my (clean) license for 5 years, on a 1.8 gti with lowered suspension and upgraded alloy wheels listed as the mods, with a low mileage driven for the year.
Several hundred £££ cheaper than anywhere else so would definitely recommend trying them! 
Old Timer


Seems a very good price. I gave up trying to run 2 cars years ago as it killed me financially and timewise.

Moderator



Nice one Charlie, it really does pay to shop around sometimes!

---
Sent by a smartphone and not a smartperson!
SEASON 4
We will be starting with the first car on Sunday the 29th of October 2017.
The last car will appear on Sunday the 25th of February 2018.
View topic: Guess the price 'Asking Price' of this MK1? - The Mk1 Golf Owners Club
Mike
There's me building mine 25 years ago, almost finished!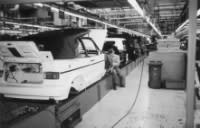 I have for years this old B&W photo of a Cabby being finished off on the production line here. But thanks to photobucket and there ransom demands I've had to search for hours and hours to reconstruct this which should have been a 2 minute job!
SCREW YOU PHOTOBUCKET and remember, hell ain't half full yet!
Settling In


Performance direct gave me a great price
Refused to insure my wife due to using car to get to work

Secretary




I've used them on quite a few classics now, and have had some great prices from them
---
Andy
Yesterday's Cars -
https://www.facebook.com/yesterdayscars
LINCOLNSHIRE REGION - 
https://www.facebook.com/groups/467122313360002/
1983 MK1 Golf GTI Campaign Model - Under (looooong) resto!
1962 Rover P4 80
2003 E39 BMW 530i Sport

Mod Team Leader



Performance direct gave me a great price
Prices depend if it's listed as classic so limited mileage etcetera. NCB. Doesn't transfer over on classic policies.
Best companies I've used are Peter Best Insurance.
And
Peter Taylor at Bishops Calway.
Both well worth ringing for classic policies.
I'm with Bishops Calway for the third time now. Very nice folks to deal with.
Cheers
Chortle
---
"Making Cabbies More Beautiful One Roof at a Time" 
Settling In


Performance direct gave me a great price
Thanks, Adrian Flux were very expensive and Sheila's Wheels wouldn't touch a car over 21 years old.
1 guests and 0 members have just viewed this: None.