Which thermostat?
'87 cab gti
Hi all,
changing coolant this weekend due to spotting to water leaks where pipe connections need cleaning up (felt best to drain and flush whilst im at it) and just ordering parts.
For less than £10 I guess its worth changing thermostat?
Questions:
1. which thermo am i looking at on euro carparts? with or without the seal?
2. which is best advised coolant, i know you cant mix orange and green but assume pink or orange is ok? (cant tell exact colour of whats in there but its not green for sure)
cheers in advance
Nath
Local Hero

---
1988 Mk1 Golf GTi Cabriolet 1.8cc DX, K-jet. Daily drive. 300,000 miles and counting
1978 Mk1 Scirocco GLS 1.6cc FR, Webber carb. Weekend toy.
Well, t-stats should be 195degree for Digi or CIS, and you will need a new seal as well.
Drilling a hole in the lip of the t-stat will prevent the bubble from hades when filling, but if you fill it in double fashion that is fill the radiator, then fill the block that usually doesn't cause the air bubble from hades.
Now with the t-stat out, reconnect the cover and hoses (no seal needed) use a garden hose and remove the upper radiator hose both sides.
Heater Valve full open
Insert a Garden hose in the radiator and run it until the water comes out clean from the water outlet flange, use a plastic bag to protect the Dis, and wires.
Then once clear reverse the hose and run it into the outlet flange until water comes out clear from the radiator.
Repeat the radiator side then the water outlet side about 3-5 times to verify that the water has flushed out the coolant, then you can use any coolant that you want as your system is clean.
Just replace the t-stat, and o-ring, and you are good to go . REMEMBER that the t-stat and water outlet flange bolts are only torqued to 87 in/lbs any more and you will either strip the water pump housing, or in the case of the block snap the bolts off.
I also at the same time take the hoses off the heater valve and disconnect the lower hose off the barbed fitting, and flush and back flush the heater matrix I do this a few times, and have been known to use a product called CLR over hear and I pour about 1/2 cup of it after plugging or pinching off the lower hose I pour it in to the upper hose and let it sit about 30 minutes then flush and back flush it again to get all the scale out of the heater matrix. (You can use Vinegar as it too is acidic,) Just be sure that you flush the paint and the metal as well as it may discolour the paint and metal…..
When re-connecting the heater hoses go to a hardware store and get a Brass 5/8" dual barbed hose mender and replace that plastic bit that VW used and you will have one less timebomb to worry about… (I had one go on the highway on me dumped all the coolant and left me stranded for a tow.).
In the archive section (how-to's) I have a how do I flush a 90's digifant radiator…..
---
What do Divorces, Great Coffee, and Car Electrics all have in common?
They all start with
GOOD Grounds
.
Where are my DIY Links?
mark1gls said
Which is why I hate plastic parts, I would suggest that you look at a scrappers or EBAY for the metal outlet flanges that the older Golfs 1980-83 used as the t-stat covers and the outlet flanges on the side of the head (rear) were metal.
---
What do Divorces, Great Coffee, and Car Electrics all have in common?
They all start with
GOOD Grounds
.
Where are my DIY Links?
cheers boys, well i have already ordered all the parts now so fingers crossed. (and ive purchased the red coolant lol)
interestingly the car boot sticker states build date 81 but the first registration is 87.
will see if the housing is plastic or not.
Where do you advise drilling the hole?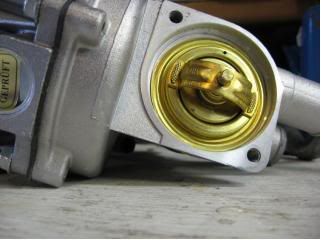 ---
What do Divorces, Great Coffee, and Car Electrics all have in common?
They all start with
GOOD Grounds
.
Where are my DIY Links?
just found it on the VWOC, cheers
1 guests and 0 members have just viewed this: None.