Bonnet/Hood hinge question

Settled In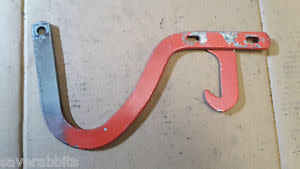 Hi, no help needed just a question. I have noticed that some Mk1 golf bonnet/ hood hinges have extra hooks on them. Do some golfs have extra latches or something? Just curious.
Cheers, Steve. 
Local Hero

It's to stop the bonnet going into the windscreen then on into the drivers/passengers face when you have a front end crash, the hooks lock into the slots on the inner wings and the bonnet should lock in place then bend.
With front crumble zones, collapse steering column etc the Mk1 Golf was a safe car back in the mid 70s…

---
1988 Mk1 Golf GTi Cabriolet 1.8cc DX, K-jet. Daily drive. 300,000 miles and counting
1978 Mk1 Scirocco GLS 1.6cc FR, Webber carb. Weekend toy.

Settled In

Thanks for the answer Mark, that's a good idea. How come the newer mk1s have not got them fitted(well mine hasn't).
1 guests and 0 members have just viewed this: None.