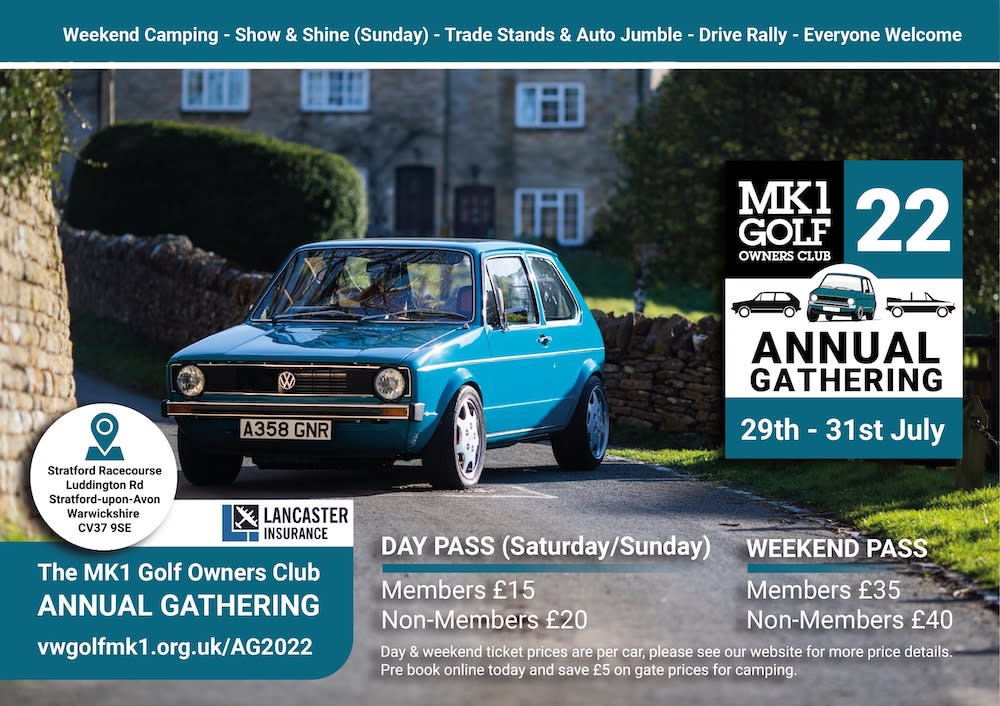 Now in its seventeenth year, the dedicated Annual Gathering for the MK1 Golf Owners Club is to be held at Stratford Upon Avon Racecourse. The weekend will be a gathering of the members and users of the best MK1 Golf club around, together with a variety of attractions, camping facilities, entertainment and trade stands, so we hope you have a weekend to remember. The usual attractions will be on hand. The club's AGM for the 1600 plus paid members amongst you, the Saturday afternoon road rally (and free commemorative grille badge), a fancy dress disco on Saturday evening, followed by the main event on Sunday. Sunday will see the largest group of Mk1 Golfs displayed in the same place in the UK. Show and Shine categories will be available for entrants to display their cars in. Club merchandise will be available to buy (without postage costs!). Food stalls, auto jumble and trade stands will all be on hand to help the day pass by.
The programme of events will be as follows (subject to change).
Friday 29th July
09:00 Gates open for campers and helpers
19:00 - 00:30 Evening entertainment
Saturday 30th July
08:00 Gates open
10:30 - 10:45 Mk1 Golf car rally drivers brief.
10:45 - 12.00 AGM - All paid members welcome, "have your say" see forum for agenda. Non-paid members can attend but not vote.
13:00 Drivers start your engines and respect the site speed limit. (At least 1/2 a tank of fuel is required)
19:00 - 00:30 Evening entertainment
Again, this year, we are holding a fancy dress party in the main hall and this years is freestyle with no particular theme.
Sunday 31st July
09:00 Gates open
09:00 Show n shine field opens. Make sure you display your judging sheet in a prominent position
11:00 Judging commences, please make sure you're entered
14:00 The raffle is drawn - Have your ticket ready!
14:30 Peoples' Choice Car award - stand by your favourite car
15:00 Show n Shine + awards presentations
17:00 Show closes - Start vacating the events field
17:00 - 20:00 all volunteers to help tidy the site are welcomed
21:00 Vacate field fully
For those of you who are
paid members
. This is your chance to meet the committee, hear what the club has achieved over the last 12 months and where we think it will go over the next year. We will be discussing finance, membership subscription, events, the website itself and merchandise. This will be
your
opportunity to have
your
say and ask the burning question that has been on your mind!
The current committee will stand for re-election.
We look forward to seeing you at the meeting. There may be some questions that can't be answered there and then, and a reply can be made on the forum if necessary.
Once again we will be having a drive out on the Saturday afternoon.
The route details will be confirmed on the day.
2021's drive out was attended by over 90 cars!
This year we will leave the Racecourse around 1.00 pm on Saturday 30th July.
It
must
be stressed that this rally
is not
a race, and any drivers who do exceed the speed limit or commit Road Traffic Act offences do so at their own risk and to other road users. The Club will not be held responsible for your actions.
Our fantastic Saturday evening entertainment will be held in the "club house" and will consist of a DJ and Fancy Dress.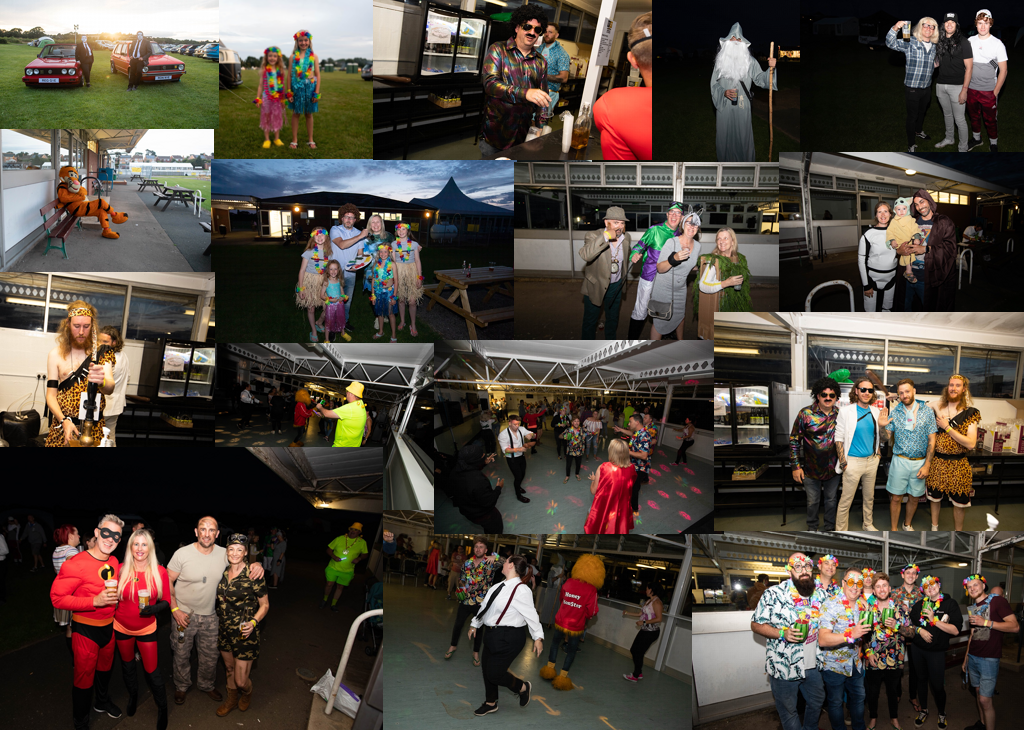 To be in with a chance of winning a prize, why not enter the
Show and Shine
? Make sure you park in the main field to be included in the judging.
The categories are:
Top Three Standard
Top Three OEM+
Top Three Modified
Best Wheels
Best Interior
Best Paintwork
Best Commercial
Best Daily Driver
Best Pre 1993
(Note that you cannot win a trophy with the same car in the same category two years running) With special awards for:
Peoples' Choice
Best Engine Bay - Walter Ainsworth Award
Best GTI - Campaign Jerry Award
Best Standard Hatchback - Keith Keenan Award
Best in Show
Best Regional Display
Member of the Year